Tri-C JazzFest Academy
The Tri-C JazzFest Academy gives students the opportunity to develop their skills and perform in both large and small ensembles through rehearsals that focus on music history, theory and improvisation. Students participate in workshops lead by national artists, throughout the year and during Tri-C JazzFest Cleveland. The semester will end with a public performance and selected ensembles will perform at local venues. 
Spring semester runs Jan. 8-May 14. Fall semester dates are TBD. 
Summer camp registration is now open with classes running June 13-24.
Faculty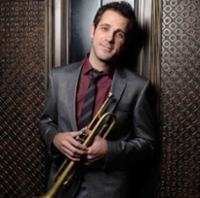 Trumpeter Dominick Farinacci was named the very first Global Ambassador to Jazz at Lincoln Center by Wynton Marsalis, working to further integrate music into communities around the world in culturally collaborative ways. He graduated from The Juilliard School in 2005 launching his career in Japan with a prolific run of eight albums, later releasing four more globally. He has performed in more than 120 cities in 14 countries around the world, was a featured guest on ABC's Good Morning America, and is a TED Speaker. Music icon Quincy Jones says of Farinacci's accomplishments in performance, recording, education & advocacy, "This kid is 360 degrees!"
Farinacci has been successful in his personal endeavors on bringing music into the community through Arts and Wellness & Education. He was invited by TED to be a TED Speaker at the 2014 TED MED conference at the Kennedy Center in Washington, DC. He is a featured performer for the Cleveland Clinic in both Ohio and Abu Dhabi, and organized the very first jazz performance for patients in Abu Dhabi in collaboration with the Cleveland Clinic and the Abu Dhabi Music and Arts Foundation. For Farinacci, music and health go hand in hand, most recently organizing panel discussions around patient-doctor communication through music with Weill Cornell Medical College in Qatar.
Farinacci has been a leading advocate in music education development, most recently featured at the Community College Association of America in D.C. He served as Music Consultant to the Amy Winehouse Foundation, and is Artist in Residence at the Gill and Tommy LiPuma Center for Creative Arts at Cuyahoga Community College in Cleveland, Ohio. His educational reach recently expanded to the GCC, in schools such as Weill Cornell Medical College, Qatar Music Academy, the American School of Doha among others.
His most recent recording "Short Stories" is produced by four-time Grammy Award winning producer Tommy LiPuma. This was LiPuma and Farinacci's first collaboration, and was recorded in their hometown of Cleveland at the Gill and Tommy LiPuma Center for Creative Arts. Farinacci is signed to Mack Avenue Records.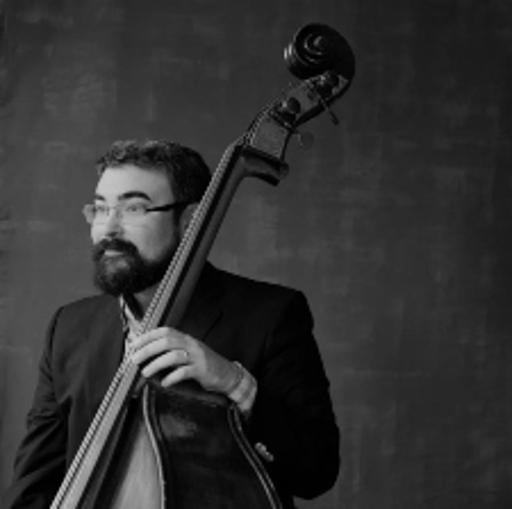 Aidan Plank is a bassist living in Northern Ohio. He currently serves as bassist for the Cleveland Jazz Orchestra, Cleveland JazzWorks, and Dan Bruce's: beta collective. Plank's own ensemble, Pulse, explores original compositions by its members as well as a diverse range of music composed by well-known and obscure jazz composers. As an educator Aidan serves as the jazz bass instructor at Kent State University and at Cuyahoga Community College's JazzFest Academy. Plank has also served as a clinician and adjudicator at the Maplerock Jazz Festival (2016) at Ashland University and at the Lakeland Jazz Festival (2018) at Lakeland Community College.
Performance highlights include performances with: Dan Wall, Joe Lovano, David Berkman, Tim Armacost, Tierney Sutton, Vanessa Rubin, Gerald Clayton, John Fedchock, Bill Dobbins, Bruce Johnstone, Joe Maneri, Steve Davis, Jamey Haddad, Michael Philip Mossman, Carl Allen, Randall Woolf, Terence Blanchard, The Cleveland Orchestra, Judi Silvano, Bruce Arnold and others.
Plank was featured on NPR's "Jazz Night in America" radio show on their May 16, 2019 broadcast: "Cleveland's Joe Lovano Comes Home".
Plank has performed at Carnegie Hall, Severance Hall, The Knitting Factory (NYC), Spectrum (NYC), Elastic Arts (Chicago), and Blossom Music Center.
Plank is a graduate of Cleveland State University.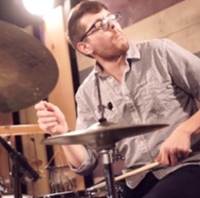 Anthony Taddeo is a drummer, composer and ODP performing artist currently performing throughout Cleveland, Ohio and NYC.
Early on in his musical career he studied with world renown percussionist Jamey Haddad before moving to New York City in 2009 to further pursue his musical career at The New School for Jazz and Contemporary Music. While studying at The Newschool, Taddeo studied with masters such as: Jimmy Cobb, Kendrick Scott, Vic Juris, George Cables and Reggie Workman. In 2011, Taddeo graduated with honors from The Newschool and immediately began performing with a wide variety of artists from all genres of music including: Dan Tepfer, Frank Wess, Ron McClure, Amber Rubarth, Dave Edgar, Lora-Faye Whelan, Joel Schmirnoff, Rachel Brotman and Charles Giordano. He has also recently performed with, Tony and Grammy award winning, Steve Kazee to sold out crowds at the legendary Birdland Jazz Club and 54 below.
Taddeo is an active composer and arranger for multiple music projects in NYC along with his own percussion experiment called "kitchen table music." He is currently endorsed by "Out of the Drawer Percussion" as a performing artist.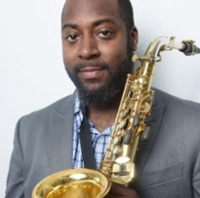 Christopher J. Coles is a graduate of Cleveland South High School (2004). In 2009, Coles received his Bachelor Degree in Saxophone Performance from Youngstown State University. It was here that he studied with world-renowned saxophonist and educator Dr. James C. Umble, jazz saxophonist Dr. Kent Englehardt, and jazz bassist and composer Dr. David Morgan. In 2012, Coles received his Master Degree in Saxophone Performance from the University of Akron. Coles has performed with many local and international jazz musicians such as, Eddie Baccus Sr., Melvin Burks, Kenny Davis, Glenn Holmes, Bill Ransom, and Cecil Rucker, Grammy Award winner Slide Hampton, Ralph Lalama and Allen Vizzutti. Coles recently was accepted to perform in Italy with the Ohio Youth Jazz Orchestra. It was here that Coles performed with Wessell Anderson, lead alto saxophonist for the Lincoln Center Jazz Orchestra.
Some of Coles' recent accomplishments include being a participant at The Banff Workshop for Jazz and Creative music in Alberta, Canada. It was there that Coles had the distinct honor of studying with some of the great pioneers in jazz today such as Vijay Iyer, Mark Turner, Imani Izuri, Tia Fuller, Billy Hart, Ingrid Jensen, Zakir Hussain, Somi, Vosany Terry, and Miles Okazaki to name a few. Coles also played at the North American Saxophone Alliance Regional Festival in West Virginia with the Dana Saxophone quartet, performing at the International Saxophone Symposium in Washington D.C., and premiering a commissioned work by John Hollenbeck at the Whitney Art Museum Composers Workshop. Coles also recorded this work on John Hollenbeck's album Rainbow Jimmies released in 2009.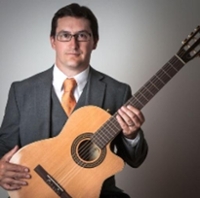 By embracing the influence of his heroes from the jazz tradition and retaining his own musical personality, guitarist Daniel Bruce has developed a unique and impressive musical voice. A recent transplant to Ohio after spending a decade as an important member of Chicago's vibrant jazz scene, he is active throughout the Midwest and nationally as a performer, recording artist, composer and educator.
He has performed on more than thirty albums as a sideman and has released two albums under his own name. As a performer and recording artist, Bruce has had the opportunity to work with a number of eminent musicians including Seamus Blake, Ali Jackson, Dan Wall, Lynn Seaton, Rose Colella, The Cleveland Jazz Orchestra, and Marquis Hill.
As a composer Bruce has been featured in The Chicago Composers Collective series at The Green Mill and The Jazz Institute of Chicago NextGen Jazz Series, and several of his compositions and arrangements have been published in Fingerstyle Guitar Magazine. His first album, A Single Thread, was released to critical acclaim. Martin Gladu of allaboutjazz.com wrote, "A Single Thread combines his learned guitar work, which is at times reminiscent of Ben Monder, with substantive yet airy, contemporary sounding compositions", and Chuck Vecoli of jazzreview.com called it "A brilliant first effort". In his All About Jazz review of Earthshine, Bruce's second work, Troy Dostert describes "…a generous, accessible sound with an exploratory edge, Bruce brings a finely-polished technique that is at the same time subtly discontent, searching for new expressions and willing to take some chances along the way." His original works and arrangements have been performed by The Cleveland Jazz Orchestra and The Brad Wagner Nonet as well as numerous college and high school ensembles, and he recently received an Individual Excellence Award in Music Composition from the Ohio Arts Council.
Bruce is currently on faculty at Youngstown State University and Cuyahoga Community College.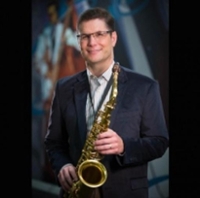 Dave Sterner is one of Northern Ohio's most sought-after saxophonists and jazz educators. Sterner has spent over twenty-five years mastering his horn as a professional musician and developing a consistent model on how to teach jazz. Today, with over 120+ gigs a year, Sterner is a regular in several bands including Ernie Krivda's Fat Tuesday Big Band and the band Red Light Roxy. Additionally, Sterner leads a trio, quartet and quintet under his own name as the venue warrants. Other groups in Northeast Ohio that Sterner performs with include The East Central Jazz Educators All Star Big Band, Park Place Entertainment, Blue Lunch Blues Band, Joe Bell & the Swing Lizards, and The Cleveland Jazz Orchestra, among others.
As a recording artist and composer, Sterner has released two albums, What's What (2006) and Sidetracked (2011) as the leader of The Dave Sterner Quintet. The quintet won the "Best Jazz Band" music award from the Cleveland Free Times Magazine, and Sterner has claimed the "Best Horn" title from the Cleveland Scene magazine. He appears as a featured soloist on all three albums from Ernie Krivda's Fat Tuesday Big Band, Perdido (1997), The Band That Swings (1999), and Body & Soul (2006). He also appears on the N. Glenn Davis Quartet's A Different View, the N. Glenn Davis Quintet's Come Right In, Featuring Phil Woods and has recorded with the East Central Jazz Educators All Star Big Band, The Jazz Heritage Orchestra, and Tony Cuda's Jazz Cats.
Sterner also free-lances with national acts performing in town, playing jazz, show tunes, blues, rock and pop music as needed. Among many others, he has performed with Tony Bennett, Harry Connick Jr., The Four Tops, Aretha Franklin, the Dizzy Gillespie All-Star Big Band, David Sanborn, and Phil Woods.
As a part-time jazz faculty member at Cuyahoga Community College since 2007, Sterner has taught an array of classes that include Ear Training, Jazz Theory, Arranging, Improvisation, and Music Skills. He also directed the Lakeland Community College Jazz orchestra and co-directed the Lakeland Jazz Festival from 2008-2020. He has been a clinician for Lakeland Jazz Festival, Tri-C JazzFest Cleveland, Ashland University Jazz Festival, College of Wooster, and several local high schools.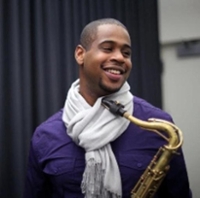 A product of Oberlin Conservatory's best and most respected musicians and a native of Cleveland's southwest side, saxophonist Cochran was a music lover at an early age. Through his music, he aims to share his life story growing up in Cleveland.
As a child, Cochran was active in gospel music playing drums in church and singing in the choir. Later, he started playing saxophone in elementary school, which opened the door for learning about jazz. He attended Cleveland School of the Arts and Cuyahoga Community College simultaneously during high school, studying saxophone with the legendary Ernie Krivda and finding mentorship in many other local Cleveland players. While furthering his training at the Oberlin Conservatory, he has remained an active professional performing in the Cleveland area with bands such as Mojo: The Generations Big Band, The Jazz Heritage Orchestra, Ernie Krivda's Fat Tuesday Big Band, and The Swing City Big Band.
He has had the opportunity to perform with world-renowned artists such as Clark Terry, Jimmy Heath, Sean Jones, and many others. He is also currently a member of the Cleveland Jazz Orchestra under the direction of Paul Ferguson. Cochran studied with Gary Bartz at the Oberlin Conservatory of Music and graduated in May of 2013. In addition to the saxophone, his primary instrument, he is proficient at the piano, drums, and various woodwind instruments. In his music, Cochran creates a sound that is all his own blending modern ideas with the sounds of his upbringing.
From jazz to hip-hop, from Duke Ellington to Michael Jackson, Cochran and New Sound was formed with the idea of fusing the traditional and modern genres of music together into one setting. Each of the players in the band have their own unique voice and their own story to tell, and when they come to together – they create a sound fresh and uplifting.
Deemed "stunningly good" by the New York Times, Thomas has played in jazz festivals around the world, and has performed with Charles Toliver, Marquis Hill, Bruce Williams, Richie Goods, Jazzmeia Horn, and the Cleveland Jazz Orchestra, among many others. He can be found at his bi-weekly residency at Smalls Jazz Club which he has hosted since 2015.
Thomas graduated from The New School for Jazz and Contemporary Music in 2015 and The Juilliard School in 2019. He has been a student to pianists Aaron Goldberg, Dan Nimmer, Aaron Parks, and Taylor Eigsti. In 2012 he was awarded The ASCAP foundation Herb Alpert Young Jazz Composer Award. 
Born and raised in Cleveland, Ohio, he benefited from the city's wide range of jazz veterans and swing-rooted tradition. Sonically, his sound harkens to the creative influences he's adopted. Influences such as Kenny Kirkland, Wynton Kelly, and Mulgrew Miller are apparent muses and thus lend their sound to his style.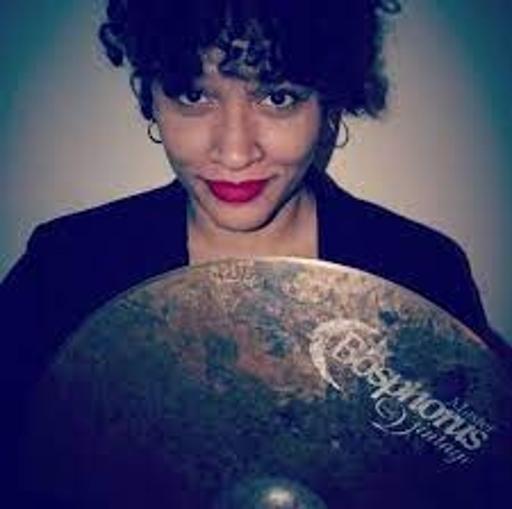 Drummer and Cleveland native Sunceray "Sunny" Tabler began playing at a young age after a boy told her "girls don't play drums". She has been playing ever since. In her early years, Tabler has studied with Cleveland legends such as Bob McKee and Jamey Haddad. She participated in the Tri-C Jazz studies program and is alumni of the Tri-C JazzFest All Stars. Tabler attended Oberlin College & Conservatory of Music and she studied under instructors Billy Hart and Paul Samuels. Her love of music is evident in her style of playing and her communication with other artists during performances.
New students must submit a placement audition video. Please email CreativeArtsAcademy@tri-c.edu for more information about anything regarding the program.  
Check out more videos of students in the JazzFest Academy