Bernice Howard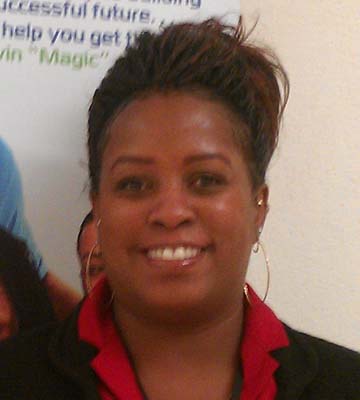 As a recent transplant to Durham, N.C., Bernice Howard, '87, misses the Cleveland area and her friends from Cuyahoga Community College (Tri-C®). An educator and administrator, Howard was recruited to help establish the Magic Johnson Bridgescape Academy in Durham.
The academy is breaking new ground as a charter school within an existing school working in partnership with the local district. It helps at-risk students, and Howard has a long history of working with such students and a unique perspective on them.

While she was a student at Shaw High School, Howard went unnoticed by counselors and teachers. A transfer from Dallas living with relatives in East Cleveland, she was not the best student and soon she was expecting a baby. Howard never saw herself as college material and received no inkling from school staff that she was either. She graduated in 1984 with no idea what she would do.
That summer her twin sister, Bernita, moved up from Dallas to East Cleveland and wanted to go to college. Bernice Howard drove her sister to the Metropolitan Campus to enroll. Noticing a child care center on campus, Bernice went in to see what it was about, and found hope for a better future.
The people working there explained how they would look after her child so she could go to class. Suddenly Howard felt she had a purpose in life and enrolled that day. Three years later, she graduated with an Associate of Applied Business degree and the possibility of a brighter future for herself and her son.

"All the teachers at Tri-C were awesome," Howard said. "They took me seriously as a student and I then took my studies seriously. They were flexible and understanding of my situation and troubles. I got tutors when I needed them and extra help, too. I could not have made it without Tri-C."
After a short stint working for the government, Howard went to Cleveland State University and graduated with a bachelor's degree in education. She taught history at middle schools in East Cleveland and Cleveland and later returned to CSU for her master's in educational administration.
Given her own difficult experience in high school, Howard soon found her niche teaching at-risk students in GED programs. This led directly to her new career in Durham.
"Tri-C made this all possible for me," she said. "They gave me a lot and I feel it is my duty to give back. That is why I do what I do. It all started at Tri-C."