Environmental Education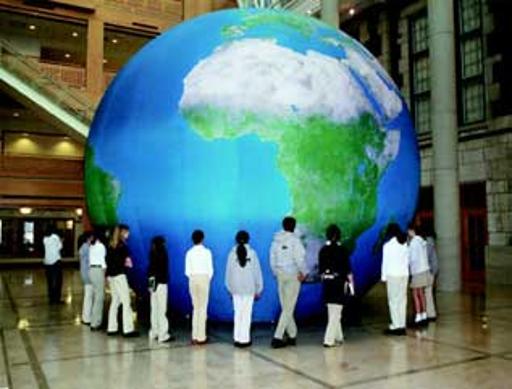 Global Issues Resource Center Earth Trek classroom brings the wonders of Science, Math and Social Studies into your schools with innovative, hands-on, customizable lessons that are aligned with state proficiency objectives and standards.

Global Issues Resource Center and Library present hands on interdisciplinary environmental science and technology workshops available for educators and youth serving professionals.  Exciting and informative workshops that can be used to help prepare Northeast, Ohio youth for the Science, Technology, Engineering and Math (STEM) based economy while meeting state science standards.  Workshops can be designed for your school or organization. 
Earth Trek Program:
Uses a 22' inflatable Earth Balloon that presents the most accurate depiction of our world through state-of-the-art satellite imagery
Lessons are suitable for all grade levels
Program is aligned with proficiency objectives and standards in core content areas of Science, Math and Social Studies
Lessons can be designed to fit your established curriculum
Available in half-day, single day or residency formats
The Earth Trek Program integrates core classroom subjects using an organizing essential question. Each topic includes three components:
A set of classroom pre-activities with detailed lesson plans to allow the classroom teacher to prepare students for their upcoming visit to the Earth Balloon. Activities last for 40 to 80 minutes.
An Earth Balloon experience guided by a professional Earth Balloon learning facilitator. Each presentation focuses on the chosen topic's essential question in a 20 minute interactive overview outside of the balloon followed by a 20 minute program continuation inside the balloon for a total of 40 to 50 minutes.
A set of classroom post-activities with detailed lesson plans to allow the classroom teacher to extend and integrate the balloon experience into core curriculum areas. These activities last 40 to 80 minutes per subject.
Earth Trek Program Topics are:
Water, Water Everywhere, But...
Popping Population
Exploration: Please Help Me, I'm Shrinking!
Biosphere-Survival on Planet Earth
Sun, Moon and Stars
See an overview of price plans
Videos