Meet the VEAP Team
VEAP Staff
Marjorie Morrison, Director
Marjorie began with Veterans Education Access Program as a math instructor and later served as the academic coordinator and advisor before becoming the director of the program. While her position has changed through the years, she believes her involvement with VEAP students and the fabulous team that she works with continue to be rewarding. Marjorie says, "It is an extremely gratifying experience to see students as they progress because they are often amazed at what they know by the end of the refresher course!" 
Soledad Tosta, Program Coordinator
Soledad Tosta has worked with VEAP for many years, and she has had the opportunity to assist hundreds of students. Soledad plays a vital role behind the scenes, but she also helps get veterans where they need to go. As a Tri-C alumna, Soledad is a great resource for your questions.
Leanne Hoppe, Academic Coordinator
Leanne Hoppe has a background teaching English composition to college students of all ages and backgrounds. She serves as the academic coordinator for VEAP. Students see her in the classroom delivering the Lunch-n-Learn sessions and in the computer lab for tutoring. She also checks in on students and schedules appointments.
Angela Hobbs, Program Assistant
Angela serves as the Program Assistant at the Veterans Education Connection Center located at the Louis Stokes VA Medical Center. She assists veterans who are seeking assistance and information about transitioning into post-secondary education using their VA education benefits. She also assists veterans with learning basic computer skills during her daily hour-long computer sessions.
VEAP Instructors
Laura Cole-Knapp
Laura Cole-Knapp serves as the English Instructor and tutor for the Veterans Education Access Program.  She has a B.A. in Comparative Studies in Literature and an M.A. in English.  She is TESOL certified to teach English as a Second Language to non-native speakers.  She has been teaching English composition and grammar to adult learners for the past three years.
Jessica Rodriguez-Mencini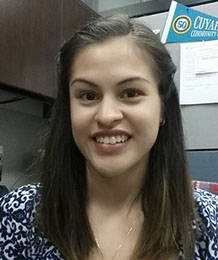 Jessica Rodriguez-Mencini teaches and tutors math and science for the Veterans Education Access Program. After attending Tri-C and Cleveland State University, and participating in TRIO programs at both campuses, she received a BS in Education with concentrations in math and social studies. Before joining the VEAP team, Jessica worked as a tutor for a national company, helping students reach their goals of post-secondary education enrollment. She's excited to use her experiences, personal and professional, to help our students reach their educational goals!
Jeremy Wong
Jeremy Wong is an instructional assistant with diverse interests. Jeremy has a lifelong passion for teaching, having worked at the Cleveland Clinic, Glass City Academy, and Cleveland State University. If it's tutoring in math, computers, or writing, then he's eager to help!