Broadcast Sports and Live Event Production Pilot Program



Description:
The Sports and Live-Event Production Pilot program is designed to give enrolled students hands-on technical training and knowledge needed for acquiring entry-level positons in the broadcast sports and live-event or A/V industry. The hands-on training will be conducted using Image Video Teleproduction's HD 30' remote production truck and a smaller remote (flypack) set up.
The lead instructor and director of the games will be Pat Murray who has 40 years in the broadcast industry, particularly sports, and recently retired from WKYC-TV as the Director of Baseball Operations.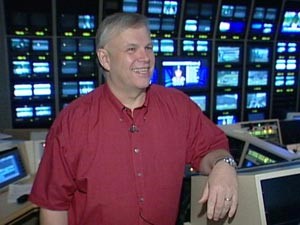 What makes the pilot program unique is learning from and working with Pat Murray who recently retired from SportsTime Ohio/WKYC-TV as Director of Baseball Operations. Pat will be the lead instructor for the workshops and direct the games.   
Objective:
Upon satisfactory completion of this course, the student should be able to perform the following outcomes and supporting objectives:  
Discuss the pre-production and production process for recording a live-event.
Discuss the key crew positions and their duties in broadcasting a live-event.
Understand production etiquette and safety for recording live events
Understand the roles and skills need for live-event A/V support
Exposure to industry professionals
Understand and perform the duties of the following production crew positions:
A. Utility
B. Camera Operator
C. Audio
D. Technical Director
E. Video Replay
F. Character Generator Operator
Spacious interior with a small footprint allows clients to work nearly anywhere in comfort.  The best in High Definition Outside Broadcast Production! 
Switcher: 
Ross Carbonite 2 ME switcher
Ross video/audio routing switcher
Ross Blackstorm server
Cameras: 
Hitachi ZHD 5000 1080i or 720p (5)
Panasonic AW-HE120 1080i Robotic Camera
Lens:
Canon 50x Super Sport Box lens
Canon 45x Super Sport Box Lens
Canon 33x Fujinon 20x with 2x doubler (2)
Fujinon 20x
Fujinon 11x Wide Angle
Graphics C.G.:   Chyron Mosaic with Lyric PRO  8.6
Replay: Grass Valley Dyno Replay System (4-in/2-out)
Editing: Grass Valley Edius 7 on HP Z800 Workstation
HD Recording Decks:
AJA Ki-Pro ProRes File Recorder
Sony PDW-70 XDcam optical disc deck
Sony PDW-75 XDcam optical disc deck (dual layer)
Sony HDW-F500 HDCam Sony HVR-1500 HDV
Panasonic AJ-HD1400 DVCPro HD  
SD Record Decks:  
Sony DSR-1500A DVCam
Panasonic AJ-D95dc DVCPro  
Format Conversion/Frame Syncs: 
AJA FS1 AJA FS2
Audio: 
Allen & Heath GL2400 32 Input, 4-bus Live Console
DigiCart II Plus with remote
DAC Cartwall PC-based virtual cart player with touchscreen monitor
Sony CD Player Telephone interfaces (2)
Telex RTS intercom
ClearCom Micro Matrix Plus 24 Port Digital Matrix Intercom Frame
ClearCom Tempest 900  4-channel wireless intercom with 5 belt packs
Power: 
Onboard Onan Generator
Shore Power Requirements; 208-220 single phase 50 amps