Paralegal Job Opportunities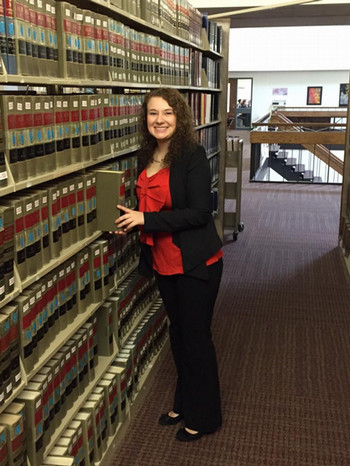 2/21/ Secretary: Cleveland, OH- The Department of the Treasury is seeking a Secretary. Click here for more information.
2/15/18 Receptionist and Pre-Litigation Paralegal: BEACHWOOD – personal injury and business litigation law firms seek a receptionist and pre-litigation paralegal.  Duties include retrieving medical records and bills, calculating medical bills into audits to be included in settlement demand packets, answering phones, greeting clients, establishing claims with adjusters, subrogation and general file management.  The position requires a high level of organization.  Advancement opportunities exist.  Applicants should submit a resume along with an email that outlines compensation and benefit expectations. Current students are welcome to apply by email to: asg@cianogoldwasser.com    
2/8/18 Arbitration Paralegal: Cleveland, OH.  DITCHEY GEIGER, LLC is a firm established in 2006 that handles handles subrogation & arbitration claims for insurance carriers nationwide.
Arbitration: Member Insurance carriers subscribe to a dispute resolution forum known as Arbitration Forums, Inc. In this forum, carriers resolve disputed auto accident claims through written contentions as an alternative to litigation. The decisions are binding and not subject to appeal on the merits.
Job Description: Arbitration Paralegal will be responsible to review claim files and organize all necessary supporting documentation. Research applicable codes, statutes, and case law. Prepare and draft concise, persuasive written arguments for handling Attorney to support theories of liability on behalf of client.
Qualifications: Strong writing skills, reading comprehension, analytical thinking, strong organizational skills, work under pressure of strict deadlines, learn and retain an understanding of negligence and theories of
liability applicable to auto accidents in multiple jurisdictions, develop a working knowledge of applicable rules and procedures. Full and PT work hours considered. $13.00-15.00 per hour. Casual work environment, Free Parking.   
              DITCHEY GEIGER, LLC
              2728 Euclid Avenue – Suite 201
              Cleveland, Ohio 44115
              www.ditcheygeiger.com
              Submit Cover Letter and Resume to:
              Timothy J. Ditchey
              TJD@DitcheyGeiger.com
2/8/18 Secretary: Cleveland, OH. Abel & Zocolo Co., L.P.A. is searching for a full or part-time secretary. The qualities they are looking for are: high level of confidentiality; strong sense of discretion; excellent written, telphone and communication skills; courteous and professional demeanor. Responsibilities to include: Drafting documents; legal correspondence; proficient in Microsoft Word; maintaining files, scanning, copying, faxing documents; overseeing and ordering office supplies and materials; communicating with attorneys, clients and court personnel; answering phones and emails; and greeting visitors. Salary is starting at $12-$15/per hour. Email resume/credentials/references to JWAbel@sbcglobal.net
2/8/18 Paralegal: Mayfield Heights, OH. Progressive is searching for a Corporate Paralegal to support a group of attorneys in their Claims Legal Department. Click here for more information
2/7/18 Paralegal: Independence, OH. Civil Litigation Law firm seeks a Legal Assistant/Law Clerk/Paralegal Full or Part-Time. Duties include but not limited to: Client file set-up, research, document preparation, etc. To be considered for a position, applicants must submit a resume along with a cover letter that outlines compensation and benefit expectations. Current students are welcome to apply. Dan Morell & Associate, LLC. Attn: HR 6060 Rockside Road, Suite 200 Independence, OH 44131 or email to: dmorell@danmorell.com 
2/5/18 Legal Assistant Auditors: Brooklyn Heights, OH. This is a great opportunity for a junior level paralegal! Our client is seeking to hire a small team of Legal Assistant Auditors to join their Forwarding group in their Brooklyn Heights office for a temp to hire assignment. If you have strong attention to detail, excellent time management and analytical skills, and are comfortable working in a high volume team environment please read on and apply to be considered. Key Responsibilities: Case management for consumer collections files; Document review; record auditing; Email and phone communications to local services attorneys off site; Data Entry Qualifications: One year paralegal/legal assistant certificate from college or technical school and a minimum of 1 year relevant experience or an equivalent combination of education, training, and experience. Understanding of the Legal Process Flow for Civil Lawsuits is Preferred; Must type 45 wpm (typing test on site);Proficiency with Microsoft Word, Excel, and Outlook; Strong attention to detail; Comfortable working at a fast pace; self-motivated. Contact Lesley Shiels, Major Legal Services lesley@majorlegalservices.com 216-579-9782
2/5/18 Paralegal: Akron, OH. An Akron area corporation is searching for a temporary litigation paralegal. The assignment will be 3-6 months long and they would like the candidate to have 1-5 years of substantive litigation experience.  Click here for more information.
1/25/18 Paralegal Specialist: Cleveland, OH. The Department of Defense is seeking a Paralegal Specialist. Click on the link for more information. Click here for more info.
1/23/18 Paralegal/Legal Assistant: Beachwood, OH. MIM Software Inc. provides practical imaging solutions in the fields of radiation oncology, radiology, nuclear medicine, neuroimaging, and cardiac imaging. We are seeking a Paralegal to join our Legal Services department. You will work closely with our legal counsel, to format, prepare, negotiate and review standard form agreements (including but not limited to NDAs, BAAs, and software license agreements). You will help with managing the Legal Services department's workflow, including scheduling, processing contracts for signature, tracking to ensure receipt of fully executed documents, and maintaining entries in a document management system. Also, you will assist in managing tasks associated with data privacy and security. We want someone who has a passion for the legal field and demonstrates a strong work ethic, excellent communication skills, and a willingness to support our Legal team in anyway. Responsibilities: Format, prepare, negotiate and review contracts, such as confidentiality agreements, BAA's, service agreements, software license agreements, and other documents as required; Assist the Business team and Account Managers in managing RFI and RFP's; Review, analyze, and summarize contracts to monitor critical terms/dates; Assist in Privacy and Security-related tasks (HIPAA and GDPR); Handle contract signing process and maintaining a document management system; Assist Legal Counsel in tasks related to all areas of MIM Software, including marketing, intellectual property, business and human resource legal tasks, etc.; Manage the Legal Services department workflow. Qualifications: 
High School diploma or equivalent required. Bachelor's or Associate's degree preferred; Paralegal degree/certified paralegal preferred; 0-5 years' experience as a paralegal with a focus on contracts; Previous experience in-house or at a large law firm preferred; Previous experience dealing with technology transactions and privacy issues; Proficiency with Microsoft Office applications (i.e., Word, Excel, Outlook); Must be organized, self-sufficient, and detail-oriented and be able to handle and prioritize multiple tasks and work concurrently on a variety of projects; Must have strong drafting skills for contracts/agreements. Click here for more information


1/16/18 Legal Assistant/Paralegals: A growing multi-state debt collection law firm is seeking two motivated and energetic Legal Assistants or Paralegals. Main responsibilities will be to prepare complaints, instructions to reissue service, various motions, garnishments, and other executions for attorney review.  Also, to prepare bankruptcy documents: such as notices of appearance, proofs of claim, and adversary proceedings for attorney review.  Job may also entail e-filing pleadings, copying and mailing documents, checking status of cases and filings, and other general office duties as assigned. Ideal Candidate will have experience in a Creditor's Rights/Debt Collection law firm, be organized, punctual, and detailed oriented.   Experience with Ohio, Michigan, and/or Wisconsin laws preferred. Candidate must take responsibility for quality of his/her own work product, want to be a contributing member of the team, thrive in a fast-paced, volume-driven environment, and have a positive attitude.  Pay to commensurate with experience level. Please email resumes to jwhite@hsfinancialgroup.net 
1/1/18 Paralegal: Rocky River, OH firm is seeking a full-time, experienced paralegal. The position will assist one of the partners of the firm. The right candidate must be computer savvy and preferably a notary. Duties to include: answering phones and email; drafting and preparation; intake calls; e-filing; case file auditing and management. The firm focuses on domestic relations and juvenile matters, but other areas of law are also handled as well. Benefits package included. Please forward resume to csantosuosso@laubacherlaw.com for consideration. 
12/19/17 Paralegal: A Cleveland company has an opening for a Paralegal with a temporary to hire opportunity. Job Description: reviewing contracts; help report filings; working with transactions; work hand and hand with attorney trained on confidentiality agreements; first level negotiating and reviewing of confidentiality agreements; preparing contracts via templates; candidates should be familiar with a collaborative environment, and have a strong understanding of contracts and confidentiality agreements. Parking is free and pay is negotiable based on experience. If interested send resume in Word format to brooke.spelman@roberthalflegal.com. 
12/4/17  Intellectual Property Paralegal: Frisina seeks an Intellectual Property Paralegal on a part time basis to handle routine paralegal and administrative tasks. Work hours are flexible, but the candidate must be available to work during regular business hours. Duties of the successful candidate include preparing papers for filing in patent and trademark cases, legal research, preparing routine documents such as non-disclosure agreements and information disclosure statements, monitoring PAIR for case status changes and incoming correspondence, docketing case deadlines, running weekly docket reports, preparing routine client correspondence, assembling patent and trademark search reports, and setting and confirming client appointments. Skills. Strong legal research skills, organizational skills, and verbal and written communication skills are required. Proficiency with basic office software including MS Office and Adobe Acrobat is expected. Any technical experience in science, engineering, or manufacturing is a plus. Experience. 0-2 years About Us. Frisina, LLC is an intellectual property law practice specializing in patent and trademark preparation and prosecution. Employees work in a collegial atmosphere with ample opportunity for training and mentoring. Interested individuals should send a resume, unofficial transcript, and at least two references to :dominic@frisinaip.com. Candidates must be willing to submit to a drug test.
11/28/17 Paralegal: Downtown Cleveland law firm with fast-paced, high-profile practice focusing on civil rights, constitutional law, and white-collar-criminal defense is seeking a full-time paralegal. Great opportunity for personal and professional growth in a collegial, small-firm environment. Main job duties would include, but are not limited to, interviewing potential clients and preparing interview summaries for attorneys for evaluation; managing client files; maintaining firm calendar and scheduling, including docketing deadlines and events; assisting attorneys with preparing pleadings, correspondence, and court filings; assisting with document review, analysis, and organization; preparing exhibits and binders for depositions, mediations, and trial; fact investigation and appropriate legal research. Preferred qualifications: Proficient with Mac, Microsoft Word, Adobe, and Excel. The firm is looking for someone who has a strong work ethic, possesses strong organizational skills, has strong writing skills, pays close attention to detail, can manage multiple priorities, excels in a team setting, and has a professional, upbeat disposition and growth mindset. Prior paralegal training or experience is preferred. Notary public status a plus. Visit www.ChandraLaw.com for information about the firm. Qualified candidates should submit the following in .pdf format to Sandhya.Gupta@ChandraLaw.com and Suzanne.Zaranko@ChandraLaw.com: cover letter, résumé, list of three references, and two unprivileged writing samples. Subject of the email should read "Application for paralegal position."