Paralegal Job Opportunities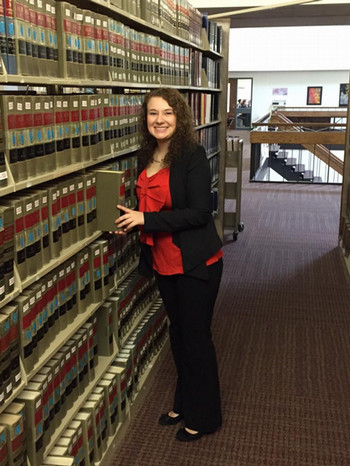 10/17/17 Receptionist/Administrative Assistant: Rocky River, Ohio-A well-established law firm is seeking a receptionist/administrative assistant. This position will support the manager and team in various roles including but not limited to: answering the telephone; communicating with clients, medical professionals, and court personnel; preparing and sending template letters; opening, scanning and distributing mail; and assisting the team in administrative duties. the candidate should be responsive to all inquiries in a professional and proactive manner. Job requirements: proficient with Microsoft Office and type a minimum of 50 wpm; have a strong attention to detail; have excellent professional written, verbal communication and interpersonal skills; able to organize, prioritize work and meet deadlines; have excellent analytical, communication, and problem solving skills; 1+ years office experience; a self-starter with a sense of urgency attached to work tasks; possess excellent customer service skills both in person and over phone; strong communication skills with the ability to communicate clearly, professionally in written and verbal form; proficiency of Microsoft Word and Excel is a strong preference; professional in appearance and demeanor. Salary: $11-12/hour. Please include salary requirements if they are outside this range. Employment type: temporary to permanent, full-time. Minimum GPA: 2.50/4.00. Email resumes to: mhlegaljobs@gmail.com
10/11/17 Paralegal: Margaret W. Wong and Associates is seeking a Paralegal for their Deportation and Litigation department in their busy Cleveland office. Duties will include: preparing filings with the Immigration Court, US Court of Appeals, Board of Immigration Appeals; preparing motions, calendaring and diary due dates for filings; correspondence with different agencies and courts, and other legal tasks as assigned. This is a full-time position with a benefits package. Send resumes to joyce@imwong.com
9/19/17 Paralegal or Law Clerk: Cleveland Ohio law office is seeking a part-time paralegal or law clerk to assist established attorney in a busy suburban law office. Work environment is an excellent opportunity to gain knowledge and experience with small law office procedures. Candidate will work with attorney on diverse range of interesting cases, clients, and cyber research projects. Work includes communication with the public and clients by phone, email, and in person, particularly in criminal, family, juvenile, education, and probate matters. Position includes some document filing at court and efiling, copying and collating, case file auditing and management, answering the phone, and greeting the public. Hours are 2-3 weekdays part-time (8-12 hours per week) to start. Hours are very flexible and may be coordinated with changing class schedules. Required Qualifications: Knowledge of basic computer operation including word processing, spreadsheet, and internet searches. Clear communication skills in fielding calls and persons experiencing legal problems. Preferred: Car, laptop, estate or guardianship accounting knowledge, paralegal training or experience, notary public license. Starting rate: $13.00 per hour + vehicle expenses paid for court filing activity. Call or email for interview: cover letter with resume, 2 references, and a short personal writing sample sent to Barry Sweet at blsweet@roadrunner.com
8/29/17 Bilingual Administrative Assistant and a Bilingual Receptionist: Margaret Wong & Assoc., a busy and growing immigration law firm is seeking a bilingual Administrative Assistant and a bilingual Receptionist for their Cleveland, OH office. Prefer a Spanish speaker with native fluency. bachelor degree preferred. Multiple openings. Resumes to joyce@imwong.com  
8/29/17 Deputy Clerk: Medina County Probate and Juvenile Court is seeking a full-time Deputy Clerk. The successful applicant will be detail oriented, and have the ability to prioritize and work under pressure. Communicate professionally and effectively with the public and have knowledge of office practices and procedures. Be proficient in computer operations especially in the use of Microsoft Office Word and Excel, and have the ability to learn the Court's case management system. Degree preferred. Graduation from secondary school supplemented by proficiency in the above areas may be considered with related experience, legal background a plus. Please email your cover letter and resume to: Jennifer A. Moore, Court Administrator jmoore@medinaco.org. No phone calls or walk-ins. Equal Opportunity Employer.
8/29/17 Paralegal/Legal Assistant: Small law firm in Cleveland, OH seeking to hire a full-time paralegal/legal assistant, experience is not necessary. Our law firm focuses on personal injury, workers' compensation, and criminal law. Primary responsibilities include case file management; answering phone calls; scheduling firm's daily calendar; client correspondence; administrative tasks, etc. Salary includes personal health, dental, eye, and life insurance benefits after 90 days, plus parking. For consideration, please submit resume via email (georgemineff@yahoo.com) or fax (216) 694-3444.
8/15/17 Intellectual Property Paralegal: Frisina seeks an Intellectual Property Paralegal on a part time basis to handle routine paralegal and administrative tasks. Work hours are flexible, but the candidate must be available to work during regular business hours. Duties of the successful candidate include preparing papers for filing in patent and trademark cases, legal research, preparing routine documents such as non-disclosure agreements and information disclosure statements, monitoring PAIR for case status changes and incoming correspondence, docketing case deadlines, running weekly docket reports, preparing routine client correspondence, assembling patent and trademark search reports, and setting and confirming client appointments. Skills. Strong legal research skills, organizational skills, and verbal and written communication skills are required. Proficiency with basic office software including MS Office and Adobe Acrobat is expected. Any technical experience in science, engineering, or manufacturing is a plus. Experience. 0-2 years About Us. Frisina, LLC is an intellectual property law practice specializing in patent and trademark preparation and prosecution. Employees work in a collegial atmosphere with ample opportunity for training and mentoring. Interested individuals should send a resume, unofficial transcript, and at least two references to :dominic@frisinaip.com. Candidates must be willing to submit to a drug test.
8/14/17 Legal Secretary: Full time Legal Secretary position in Akron. Must have experience in either Product Liability, Employment, Corporate, Litigation. This position will be supporting an attorney and a paralegal. The starting salary range is 45-53k with great benefits. If interested in more details call Jane Konkoli, The Office Professionals, at 216-447-3445.
8/1/2017 Paralegal/Legal Assistant: Law Office – Real Estate, Estate Planning, Probate Law, Small Business: Brecksville law firm seeking a Paralegal/Legal Assistant for an immediate opening to work under the direction of an Attorney and Law Student/Paralegal. Duties include: Input billable time and expenses.  Answer telephones.  Interacting with clients.  Prepare monthly invoices.  Drafting letters, legal documents, opening new files, copying and filing. Skills:  Strong verbal and written communication skills.  Ability to work independently.  Must possess strong organizational skills and attention to detail.  Ability to efficiently manage multiple priorities.  Proficiency with Microsoft Office applications. Part-time:  This job is approximately 15 hours per week.  Looking for someone to work Monday, Tuesday and Thursday – 9 am to 2 pm. Please email resumes to: Lisa Sabol at lisasabol@att.net
7/18/2017 Legal Assistant: Dan Morell and Associates is in need of a Legal Assistant. Responsibilities to support lawyers include, maintaining and organizing files and drafting complaints, motions, praecipes, garnishments, etc. Interested individuals can reply via e-mail to dmorell@danmorell.com
7/18/2017 Paralegal: Downtown Cleveland law firm looking to hire full time paralegal. Job duties include handling personal injury and medical malpractice files, ordering medical records and bills, assisting in the answering of discovery as well as answering phones. Please send resume to mike@gslawohio.com.
7/12/2017 Docket Clerk: Mazanec, Raskin & Ryder, an A.V. rated Insurance Defense Law firm with offices in Cleveland, and Columbus, Ohio and Lexington, Kentucky, is seeking a full time Docket Clerk for the Cleveland office. Ideal candidate will: Provide support to the firm's litigation practices.  Enter new file data into the firm's file management system and manage open and closed file rooms; Enter court dates into docket system; Open new client files including the initial data entry into firm's file management and billing system; Manage closed file inventory, record and file closed files, pack inventory, enter inventory into database, coordinate pick up/drop off of inventory; Manage open file inventory, organize file room, review files for offsite storage, review and pack large closed files; Other duties as assigned as needed. High school degree required with prior meaningful work experience in a professional office environment. Knowledge of Word, Excel and Database systems. Data entry experience a must.  Experience with file management and billing software systems a plus. Must be detail oriented, excellent interpersonal communication, independent thinker and have strong organizational skills. Challenging and fast-paced, the position offers a competitive salary and benefits package.  Qualified candidates should send resume and salary requirements to thaskett@mrrlaw.com
7/12/2017 Legal Assistant: Mazanec, Raskin & Ryder, an A.V. rated Insurance Defense Law firm with offices in Cleveland, and Columbus, Ohio and Lexington, Kentucky, is seeking a full time Legal Assistant/Paralegal for our Cleveland office. Ideal candidate will: Prepare, revise and proofread legal documents and correspondence; Maintain electronic files in case management system; Draft routine notices and entries; Docket deadlines and events; Prepare exhibits and hearing binders; Transcribing of digital dictation; Schedule appointments, travel arrangements, conferences and client meetings; Prepare expense and disbursement forms for reimbursement or payment; Maintain assignment calendars; Prepare timesheets and review client bills; Maintain client and administrative files in accordance with firm procedures, including within the document management system; Exercise independent judgment when prioritizing work assignments; Perform other miscellaneous administrative and support  duties as assigned; Draft discovery requests and organize discovery responses for attorneys' approval; Prepare drafts of certain l documents  for attorneys' review/final approval; emphasis on civil litigation pleadings and discovery; Forward records to clients and experts; Schedule depositions and meetings with expert witnesses; Review and summarize cases including all records\coordinate trial prep including exhibits and records; Drafting documents, including correspondence, answers to interrogatories, pleadings, motions, certain business forms and probate court documents, for attorneys review/approval; Ordering and compiling medical records and bills and preparing economic and non-economic loss compendium; Performing case-related research, as requested by supported attorneys; Preparing for deposition and attendance at trials, as requested by supported attorneys; Running reports, tracking statutes, and maintaining and updating client lists and due dates; Communicating with clients; Training of other Administrative Assistants and Paralegals, as needs arise; Back-up/support to other Administrative Assistants and Paralegals, as needs arise. 2-5 years of recent meaningful law firm experience in litigation is a must. Insurance defense experience is ideal.  Paralegal certification or degree required. Knowledge of Trialworks and Juris preferred. Excellent communication, writing/proofreading skills.  Proficient in Microsoft Office. Diligence and commitment required. Challenging and fast-paced, the position offers a competitive salary and benefits package.  Qualified candidates should send resume and salary requirements to thaskett@mrrlaw.com