Paralegal Job Opportunities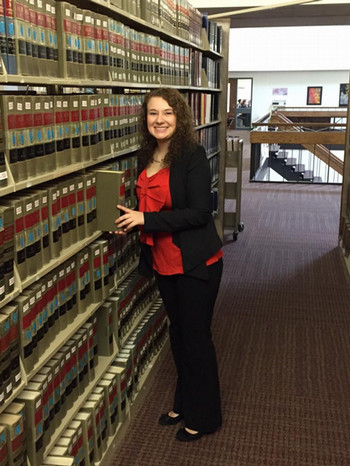 1/17/2019 Project Assistant: Cleveland, OH CLEVELAND Project Assistant – Banking, Finance & Securities With more than 2,500 lawyers, including more than 400 lawyers in Europe and 200 lawyers in Asia, Jones Day ranks among the world's largest law firms. Jones Day seeks to employ the most qualified people for every position in the Firm in order to continually deliver superior client service through professional excellence and teamwork. Jones Day offers competitive compensation, excellent benefits, and career advancement opportunities in a stimulating work environment.
Summary of Essential Duties and Responsibilities (other duties may be assigned):
Primary responsibilities include providing general assistance to a project team in the Banking, Finance & Securities Practice. Duties include legal factual research with respect to client matters, including formation documents, entity good standings, litigation and lien searches, relevant markets and industry standards and practices; participate in due diligence and other reviews of client records and files; order and review title work and surveys; identify title and survey issues, negotiate title coverage and changes to surveys in order to correct title defects and issue clear title, and verify accuracy of final insurance policies and surveys; maintain databases of client records and due diligence materials; track the delivery and receipt of documents, diligence materials and other deliverables; obtain services from outside contractors, including corporate services, research services, filing services, duplicating services, bindery services and printers, and process billing and disbursement paperwork in connection with those services; under the supervision of an attorney, draft, edit, conform and otherwise assist in the preparation of contracts, closing documents and other legal documents and correspondence; and organize, prepare for, and attend closings, including assisting attorneys in preparing closing documents, setting up the closing, overseeing the execution, recordation (if necessary), and delivery of agreements and documents, and handling post-closing matters.
Required Qualifications:
• BA/BS degree
• Paralegal certificate desired, but not required
• Strong organizational and time management skills, including the ability to organize self and others
• Must possess strong analytical, research and communication skills, proficiency with computer-based word processing, spreadsheet and database applications and Internet research, and a willingness to learn
• Ability to work overtime as needed
Applicants must complete an online application to be considered for this position. The application can be found on the Careers page of the Jones Day website,  www.jonesday.com 
1/17/2019 Litigation Legal Secretary: Cleveland, OH Matasar Jacobs LLP, a boutique law firm focused on business and securities litigation matters, is seeking an experienced Litigation Legal Secretary for our office in downtown Cleveland.
This is a full-time position offering 35-40/hours per week depending upon the mutual determination of the firm and the candidate.
The successful candidate will be detail-oriented, highly organized, and maintain both a professional demeanor and positive attitude. We are looking for someone who thrives in a collaborative team environment, has the ability to multi-task and prioritize while maintaining a sense of humor, and who has excellent written and verbal communication skills.
Either a bachelor's degree or minimum of 2+ years' recent experience as a Legal Assistant/Legal Secretary working in a litigation practice setting is strongly preferred.
Some of the things you'll be doing include, but are not limited to:
Perform a full range of legal secretary duties in the support of up to five attorneys.
Prepare legal documents, pleadings, contracts and correspondence from draft or dictated text
Manage attorneys' calendars and assist in meeting deadlines
Interface with clients
Maintain attorneys' time entries for billing purposes
Perform clerical duties such as scheduling appointments, taking dictation, composing and typing routine correspondence, scanning and converting various documents, and reading and routing incoming mail
Processing of incoming and outgoing mail.
Preparing PowerPoint documents for your assigned attorneys' speaking engagements.
Answer a multi-line telephone system, determine the purpose of calls, and transfer callers to appropriate personnel
File correspondence and legal documents in office filing system
Maintain and organize new and existing client files
Ensure proper indexing and filing of original legal documents
Prepare closed case files for off-site storage
Competencies you should have:
Exceptional people skills and a positive, can-do attitude.
Ability to handle multiple tasks simultaneously, set priorities and accommodate rush requests
Must be a team player, willing to support other team members and attorneys
Strong communication, writing, and organizational skills
Ability to follow complex instructions and collect and analyze information.
Litigation experience a plus
Typing of 50 WPM
Advanced proficiency in Microsoft Office Suite (Outlook, Word, Excel, PowerPoint)
Experience using a legal time and billing system
Knowledge and familiarity of federal and state court procedures and rules a major plus
Why you'll want to work with us:
We offer a fantastic, informal and collaborative team environment with a business casual dress code. We offer a competitive compensation (commensurate with experience)
Flexible work schedule available
Job Type: Full-time Salary: $15.00 to $18.00 /hour Experience: Legal Secretary: 1 year (Required) 
1/11/2019 Executive Legal Assistant: Akron, OH. Brennan, Manna, & Diamond, LLC Litigation Department is seeking an Executive Legal Assistant to work with its attorneys and clients on various civil litigations in both the state and federal court systems. Candidate will be involved in each step of the litigation process, including, but not limited to: opening up the files, preparing and filing pleadings, assisting in depositions and discovery, preparing binders and other materials for trial, and preparing and filing liens. Candidate must be able to maintain and organize a large volume of files in a face-paced environment and be able to prioritize same. Candidate must be proficient with Microsoft Office (Outlook, Work, Excel), and Adobe Acrobat. Knowledge or experience with Juris, Olympus Dictation, Case Map, Time Map, or Net Documents is a plus. For any questions regarding the position, please reach out to Jeanie at (330) 253-5060 ext. 138 or through email at jskim@bmdllc.com. **If interested in the position, please send resume to Mary Miles at memiles@bmdllc.com**
12/5/2018 Paralegal: Cleveland, OH. Busy Plaintiff's Personal Injury/Medical Malpractice law firm on the West Side of Cleveland (Ohio City) seeking a SUPERSTAR legal assistant/paralegal. This is a great opportunity for personal growth and development with a fast growing firm. Responsibilities for this job include, but are not limited to: requesting medical records, drafting demand letters, drafting discovery responses, frequent telephone communication with clients, drafting correspondence, occasional office filing, and managing client files.
Requirements: Proficient with PCs and Macs, Microsoft Office, and Adobe; up-beat, friendly & professional disposition; excellent phone etiquette. Must be self-motivated, detailed oriented, self-starter, unafraid of hard work and able to work without constant supervision. Please disqualify yourself from applying if you are not willing to be a team player, are unable to take constructive criticism, or get easily frustrated. Further, please do not apply for this position if you do not take pride and ownership in your work or if you cannot maintain a smile on your face even while communicating with clients whose life has been turned upside down, such as losing their wife or husband.  Willing to offer competitive compensation based on experience, benefits, and paid leave time.
Please submit your resume and cover letter, in .pdf format, for further consideration to newhire78189@gmail.com. The subject of your e-mail containing cover letter and resume must read "Superstar Legal Assistant/Paralegal Application" and the title and subject of your cover letter must be "Why I Want to Be a Legal Assistant Who Helps People." Additionally, please submit a writing sample.
12/3/2018 Paralegal: Cleveland, OH.  Tired of the downtown commute? Established east side Cleveland law firm seeking litigation paralegal to work closely with attorneys and clients on a variety of civil matters in state and federal court including commercial, construction, intellectual property and all manner of business disputes. Candidate will be involved in all phases of client representation and litigation with primary responsibility for document review, organization, production and management of e-discovery. Candidate must be experienced with computer databases and applications as well as cloud services to assist with document management and e-discovery. Interested candidates should e-mail resume to: Peter Turner, Esq., Chair, Litigation Group, Meyers, Roman, Friedberg & Lewis at pturner@meyersroman.com.
11/30/2018 Paralegal: Cleveland, OH. Independent, detail oriented, organized Intellectual Property Paralegal to perform the following tasks associated with the position: Understand, prepare and file IDS's, know how to prepare formal documents (assignment and declaration), application data sheets, power of attorney forms, issue fee transmittals, RCE's, Notice of Appeals as well as know how to upload each item and work within the United States Patent and Trademark Office website; In addition, must be able to review, follow and understand a docket report making sure each deadline is addressed in a timely fashion; Must also know how to work with Adobe, Microsoft Office (e.g. Outlook, Excel, Word) andVisio; Ability to manage large volumes of email daily and prioritize work accordingly.
Position Offers: Competitive Pay for Salary; Free Parking; Premium for all healthcare, dental, and vision policiesAfter one year, eligible for enrollment into firm's 401K plan; Contribution of 3% of their salary to their 401K. 
If interested, contact julia.lucas@roberthalflegal.com with resume, and 3-4 bullet points of why you're qualified for the position.
11/13/2018 Paralegal: Cleveland, OH. Personal Injury Paralegal
Seaman & Associates, Co., L.P.A.  - Cleveland, OH
Please respond with resume, cover letter, and availability via email to bzaber@seamanatty.com.
Personal Injury Paralegal: Successful candidates will be involved in all aspects of handling personal injury claims from inception to resolution. The position entails extensive contact with clients, insurance adjustors, and medical providers. Duties & Responsibilities: Opening new files; Gather and analyze intake information and relevant documents; Enter pertinent information into Client Profiles; Maintain contact with clients on regular basis; Verify insurance coverage and maintain contact with insurance company; Prepare documents and correspondence such as demand letters, billing inquiries, etc.; Draft settlement demand packages; Collect documentation of all damages sustained such as medical records, bills and loss of income; Organize and maintain case files; Knowledge of subrogation process; General understanding of Medicare and Medicaid.
Requirements: Must have strong work ethic and be able to work well in a fast paced environment; Must have great people skills as the position requires a great deal of client contact; Must be able to manage multiple tasks and meet deadlines; Must to be able to prioritize work and work under pressure; Must be well organized and detail oriented; Must be familiar with relevant laws as it applies to personal injury claims, motor vehicle accidents and insurance; Must have exceptional communication and written skills; Must have computer skills including knowledge of Microsoft Word; Knowledge of Needles software is preferred; Knowledge of medical terms and traumatically induced conditions is helpful. Knowledge of insurance coverage types and policies.
10/11/2018 Paralegal/Legal Assistant: Westlake, OH. Duties to include: contact with clients re: client questions, updates of proceedings; document requirements (from client); supervising client execution of litigation related documents; Check docket, contact the court re hearings, filings, etc.  Familiarity with E-filing in Cuyahoga County is a plus; Completion of discovery responses, generation of outbound discovery; researching fact questions, information sources, etc; Prepare deposition summaries as necessary; Mastery of MS Word, Excel, Outlook, Adobe, MS Office required.  Familiarity with Lexis Nexis Time Matters software, Family Law Software, Puritas Springs Software is a plus.  Solid computer skills and a candidate that is prepared to hit the ground running is a must; General paralegal level research, drafting, organizing/maintenance of files; Attend trials, court hearings and depositions with principal attorney; Keep track of time and bill per attorney. Please send resume and cover letter to: WHH@HuntLG.com 

10/10/2018 Bilingual (Spanish) Paralegal/Legal Assistant: Cleveland, OH. Fast-growing, downtown law firm, with focus on immigration law and general legal services for immigrant community, seeks Bilingual (Spanish) Paralegal/Legal Assistant. Candidates must have strong verbal and writing skills in Spanish and English, be able to assist attorneys in preparing immigration forms and preparing for court, be well-organized, punctual, and able to meet the demands of a busy law office. Experience is preferred but not necessary. Email resume and cover letter to richardtmherman@gmail.com
10/9/2018 Legal Assistant/Paralegal: Cleveland, OH. Small law office seeks part-time legal assistant or paralegal. Applicant must be organized and detail-oriented. Proficiency with MS Word and Excel a must; the more tech knowledge and experience, the better. Motivated workers have an exceptional opportunity to grow in this role. Time and hours flexible. Pay negotiable and commensurate with skills and experience. Please send resumes to wendy@erichenrylaw.com. 
10/5/2018 Clerk/Paralegal: North Olmsted, OH. West side law firm just east of Stearns Road and Lorain Road seeks a legal assistant/law clerk/paralegal (full or part time). Duties include (but are not limited to) client file setup, research and document preparation. Applicants are encouraged to submit a resume. Students currently enrolled in course study are welcome to apply. Send resume and cover letter to Colleen at admin@ealegal.net.
10/2/2018 Paralegal Assistant: Cleveland, OH. Independence law firm has immediate full-time, entry-level position available in our workers' compensation department. Recent paralegal studies graduate or current paralegal studies student desired. Applicant must be proficient in Microsoft Office, including typing of form letters, documents and composing original letters as well as in data entry, emailing, scanning, mailing, filing and copying. Professional phone skills required. Candidates should submit a cover letter, resume and references to:
Mary Ann Kuilder, COO
mkuilder@rbslaw.com
Ross, Brittain & Schonberg Co., L.P.A.
6480 Rockside Woods Blvd. South, Suite 350
Independence, OH 44131
216-447-1551
9/27/2018 Law Clerk/Paralegal: Independence, OH. Civil litigation law firm seeks a legal assistant/law clerk/paralegal (full-time or part-time). Duties include, but are not limited to, client file setup, research and document preparation. Applicants must submit a resume along with a cover letter that outlines compensation and benefit expectations. Students currently enrolled in course study are welcome to apply, but applicants seeking a long-term permanent position are preferred. Send resume and cover letter to Dan Morell & Associates LLC, Attn: HR, 6060 Rockside Road, Suite 200, Independence, OH 44131 or email to dmorell@danmorell.com. 
9/21/2018 Administrative Assistant: Cleveland, OH. Eastside Law Firm seeking an administrative assistant to perform detailed office administrative functions. A bright, responsible individual is needed to supervise scheduling, calendar Court dates, follow up with clients and Court proceedings as well as client correspondence. Attention to critical deadlines and organizational skills are required. legal experience is not required. Please contact kathy Gerome at 216-292-3300 or kgerome@lawkkwt.com
9/21/2018 Paralegal: Akron, OH. Paralegal: Willis & Willis Co., L.P.A. has an opening for a litigation paralegal. Willis & Willis Co., L.P.A. is a plaintiff-oriented litigation firm representing the physically injured. The position is a full-time 8-5 Monday through Friday, 40 hr./week salaried position. Duties include: transcription of dictation, preparation and filing of pleadings; monitoring dockets; legal research; client contact, ordering and tracking status of various document requests; general errand-running. Requirements are familiarity with both Microsoft and Google suite of applications; excellent typing; proof reading and spelling abilities; good telephone skills; good work ethic; desire to learn; personal transportation. Familiarity with legal research and/or pleadings a plus but not necessary. Essential to this job is the ability to multi-task and follow through, until tasks are pursued to actual completion. Salary: negotiable and commensurate with experience. Benefits available. More can be learned about Willis & Willis, Co. L.P.A. by visiting our website: www.willislegal.com. Phone: 330-434-5297. Address: 670 West Market Street, Akron, OH 44303. Email address: todd@willislegal.com. Resume and cover letters may be forwarded by mail or email.
9/12/2018 Paralegal: Cleveland, OH. A law firm in Cleveland is looking for a personal injury litigation paralegal. The following is a brief job description of what interested applicants need to be able to perform: client intakes; obtaining/gathering and reviewing/summarizing medical records, itemized statements, subrogation, lost wage information, etc.; drafting of Complaints; drafting discovery requests; preparing demand/settlement packages; assist attorney in trial preparation; organization and attention to detail is a must! Pay will be discussed at the time of interview. If interested, please submit a cover letter and resume. If interested email: info@tayehlaw.com