Paralegal Job Opportunities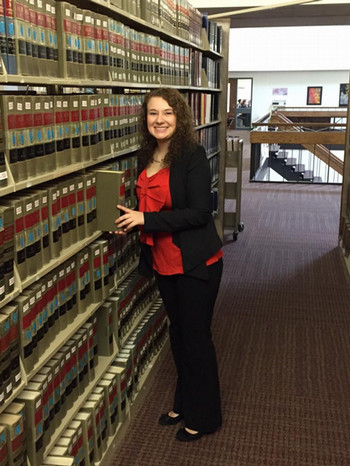 5/11/18 Paralegal: Cleveland, Ohio. Benesch seeks a commercial finance and banking paralegal. The paralegal provides support to the Commercial Finance and Banking legal staff for all types of practice group matters and ensures that all filings and other duties are completed in a timely and accurate manner. 
Essential functions include: drafting legal documents, proofreading for accuracy; preparing correspondence; filing documents with various agencies; summarizing legal documents; communicating properly and promptly with internal personnel and external contacts, exhibiting a high level of client service at all times; preparing Uniform Commercial Code (UCC) financing statements and amendments; initiating lien searches and preparing summaries thereto; preparing closing agendas and files for loan transactions; preparing for and attending loan transaction closings; preparing closing binders containing copies of all loan documents; and performing other duties as assigned.
Confidentiality: Due to the nature of employment, the paralegal will come into possession of various documents and information of a confidential and privileged nature. Such documents and information must be kept confidential at all times.
Qualifications: Strong organizational skills and the ability to prioritize and multitask; excellent interpersonal and communication skills and a client service attitude; proficiency in various software applications; and flexibility to work overtime as needed. Related experience preferred. Apply here
5/10/18 Paralegal: Westlake, Ohio. Dodosh Law Offices LLC seeks a part-time (25-30 hours/week) personal injury paralegal to join our fast-growing and high-volume practice on a work-from-home basis. Responsibilities include answering the phone, opening claims with car insurance companies, assisting clients with coordinating car damage repairs, ordering and organizing medical records and bills, dealing with all phases of Medicaid and Medicare subrogation, preparing demand packages, assisting with discovery and filing court pleadings.
Our firm is paperless and utilizes cloud computing, videoconferencing and phone systems that allow this work to be performed remotely while still keeping in close contact with the attorney throughout the day. Being comfortable with this type of technology is a must. The ideal candidate will have at least two years of experience completing the above tasks and be highly organized and detail-oriented.
Pay is competitive, commensurate with experience, and includes incentives. Contact Jackie Crawford at jackie@clevelandsinjurylawyer.com. 
5/4/18 Paralegal, Litigation Support, Temporary: Cleveland, Ohio. Leading legal technology and e-discovery company seeks a paralegal, litigation support professional or JD to help manage attorney document review projects. A college degree (associate or higher) is required. Employee will perform varied tasks, including space management, project support, staffing coordination, scheduling, time records and other administrative duties. Selected candidate will start on an hourly basis and work for the next month (May 11-June 11). Send a resume to jeanie.kim@discoverready.com. Rate is $16 per hour and $24 for OT, which may be required on occasion. Position must be filled immediately. Interviews will begin the week of May 7.
4/26/18 Part-Time Paralegal/Legal Assistant: Cleveland, Ohio. Nancy C. Iler Law Firm LLC seeks a Part-Time Paralegal/Legal Assistant for a small downtown personal injury law firm. This person will work closely with the attorney from case intake to trial and run all aspects of office management. The candidate should have strong organizational and writing skills and be able to work independently and proactively. In addition to a paralegal certificate, a college degree is preferred (though not required). Necessary skills include Microsoft Word, PowerPoint and Excel. Job duties include general secretarial work, managing both court calendar and internal case management calendars, assisting with drafting pleadings and discovery requests and summarizing depositions, drafting requests for medical records, organizing medical records and chronologies, assisting in creating trial and mediation notebooks, exhibits and presentations,  managing firm's social media postings and some bookkeeping duties, including using Quicken to manage case and office expenses. All interested candidates should send a cover letter and resume to nancy.iler@ilerlawfirm.net. 
4/26/18 Executive Assistant: Cleveland, Ohio. Seeking a full-time executive assistant in our downtown Cleveland office. This position will support members of senior leadership in a wide range of administrative and executive tasks. The executive assistant will frequently be the first point of contact on behalf of senior leadership and must have thorough knowledge of the firm's business structure. 
Responsibilities include, but are not limited to, the following:
• Provide administrative and project support for senior leadership
• Compose and prepare confidential correspondence
• Arrange complex and detailed travel plans, itineraries and agendas
• Prepare and compile documents for meetings and presentations
• Maintain senior leadership calendars, address competing priorities as necessary and facilitate timely scheduling of critical matters
• Plan and organize meetings, functions and events involving senior leadership
• Work closely with senior leadership to keep them informed of upcoming commitments and responsibilities for meetings, following up as appropriate
• Monitor incoming emails as requested and make decisions on issues that can be resolved independently
• Successfully complete all deliverables with a hands-on approach, including drafting communications for senior leadership and critically reviewing and proofreading all documents provided for review or revision 
• Research, prioritize and follow up on incoming issues and concerns, including those of a sensitive nature; determine appropriate course of action, referral or response 
• Perform additional tasks and responsibilities as required by senior leadership
Must have excellent calendar management skills, including the coordination of complex executive meetings. The ability to carry out duties with the highest quality, standards and timeliness, while maintaining confidentiality and discretion at all times is necessary. Must be proficient in drafting and revising documents, with exceptional writing and proofreading skills. Outstanding software skills required, including advanced knowledge of Word, Excel, PowerPoint and Outlook. Qualified candidates will possess a high school diploma and 5+ years of experience providing executive-level support. Experience in a law firm or professional services environment and a bachelor's degree are preferred. Apply here


4/19/18 Legal Secretary: Cleveland, Ohio. Seeking full-time secretary for a corporate practice area in our Cleveland office.  Scheduled hours are 9 a.m.-5:30 p.m., Monday through Friday. Candidate will perform legal secretarial/administrative assistant duties for attorneys and/or paralegals.
Responsibilities include, but are not limited to:
•Typing correspondence, memoranda and other legal documents to be reviewed by attorney/paralegal
•Answering telephone calls, taking messages or sending callers to voicemail system if preferred
•Reading, sorting and date-stamping incoming mail; ensuring that outgoing mail is delivered; routing mail to specific delivery service and following up on timely delivery as necessary
•Establishing and maintaining calendar, contact lists and deadline reminder systems
•Maintaining attorney and general office files
•Reviewing and preparing files to be closed when matters are complete
•Greeting clients and visitors; maintaining good internal and external customer service; observing confidentiality of attorney-client relationship
•Scheduling appointments and travel arrangements
•Entering attorney and paralegal time into timekeeping system
•Working with billing department and billing attorney to review and revise billing pro formas; assisting in finalizing bills for client mailing
•Additional duties as assigned
Candidate must have excellent customer service skills and be able to work in a team atmosphere. Individual must be detail-oriented, confidential, dependable and display good judgment. Ideal candidate will also have excellent computer skills, with experience in Windows 7 and Microsoft Suite Office 2010 including advanced knowledge in Word, Excel, PowerPoint and Outlook. Excellent proofreading and the ability to apply grammar, spelling and punctuation skills a must.  Additional qualifications include solid organizational skills and the ability to multitask under pressure.
Qualified candidates will have a minimum of three years of legal secretarial/administrative experience. Familiarity in corporate practice area preferred. Apply here
4/11/18 Legal Secretary: Cleveland, Ohio. Robert Half Legal is assisting a Cleveland firm to find an experienced personal injury legal secretary for a part-time contract opportunity.
Duties will include client intake; collection, review and organization of medical records; light dictation; answering phones; and other administrative responsibilities. The ideal candidate will have a professional demeanor and strong attention to detail and will be proficient in Microsoft Word and Excel.
To be considered for this immediate opportunity, please send your resume to elizabeth.bitonte@roberthalflegal.com. *Due to the large volume of applicants, only qualified individuals will be contacted.

4/4/18 Paralegal: Akron, Ohio. Willis & Willis Co., LPA, a plaintiff-oriented litigation firm representing the physically injured, has an opening for a full-time litigation paralegal. The 40-hour/week, salaried position has established work hours of 8 a.m.-5 p.m. Monday through Friday. Duties include: Transcription of dictation; preparation and filing of pleadings; monitoring dockets; legal research; client contact, ordering and tracking status of various document requests; and general errand-running. Requirements: Familiarity with both Microsoft and Google application suites; excellent typing skills; proofreading and spelling abilities; good telephone skills; good work ethic; desire to learn; and personal transportation. Familiarity with legal research and/or pleadings is a plus, but not necessary. Essential to this job is the ability to multitask and follow through until tasks are pursued to completion. Salary is negotiable and commensurate with experience. Benefits available. Resume and cover letter may be emailed to todd@willislegal.com or sent by mail to 670 W. Market St., Akron, OH 44303. Learn more at www.willislegal.com.
4/1/18 Civil Litigation Legal Assistant/Law Clerk/Paralegal: Independence, Ohio. Civil litigation law firm seeks a full-time or part-time legal assistant/law clerk/paralegal. Duties include, but are not limited to: client file setup, research and document preparation. To be considered, applicants must submit a resume along with a cover letter that outlines compensation and benefit expectations. Current students are welcome to apply. Email resumes to dmorell@danmorell.com, fax to 216-513-6999 or send by mail to:
Dan Morell & Associates LLC
Attn: HR
6060 Rockside Woods Blvd. N., Suite 200
Independence, OH 44131
3/29/18 Real Estate Paralegal: Local law firm client has an immediate need for a paralegal to work with its real estate and transactions group. Candidate should have experience in commercial real estate closings and be able to assist in all stages of closings from preparing relevant documents, reviewing title and survey materials and working with title companies to resolve and objections, to preparing closing document packages and drafting recordable documents for filings. Duties will also include researching UCC filings and other corporate documents arising in mergers and acquisitions and assisting with the formation and registration of entities. Ideal candidate has exceptional multitasking and organizational skills. Experience working in health care law is a plus. This is a temporary assignment that could lead to a permanent placement for the right candidate. Interested and qualified candidates should submit resumes to Lucy at lhiggins@gnoeissgroup.com for consideration.
3/22/18 Data Entry/Office Assistant: Cleveland, Ohio. A temp-to-hire data entry/office assistant position is available with a downtown Cleveland law firm. The ideal candidate will have office experience and knowledge of Word, Outlook, Excel as well as Quickbooks. Strong typing skills, including 10-key, required. High school education required; some college is ideal. Paralegal education is ideal for long-term growth within the firm. Interested candidates should email resumes to Lesley Shiels at lesley@majorlegalservices.com. 

3/19/18 Legal Assistant/Paralegal: Cleveland, Ohio. Mazanec, Raskin & Ryder, an A.V. rated insurance defense law firm with offices in Cleveland and Columbus, Ohio, and Lexington, Kentucky, seeks a full-time legal assistant/paralegal for its Cleveland office. Ideal candidate will prepare, revise and proofread legal documents and correspondence; maintain electronic files in case management system; draft routine notices and entries; docket deadlines and events; prepare exhibits and hearing binders; transcribe digital dictation; schedule appointments, travel arrangements, conferences and client meetings; prepare expense and disbursement forms for reimbursement or payment; maintain assignment calendars; prepare timesheets and review client bills; maintain client and administrative files in accordance with firm procedures, including within the document management system; exercise independent judgment when prioritizing work assignments; perform other miscellaneous administrative and support duties as assigned; draft discovery requests and organize discovery responses for attorneys' approval; prepare drafts of certain l documents  for attorneys' review/final approval; emphasis on civil litigation pleadings and discovery; forward records to clients and experts; schedule depositions and meetings with expert witnesses; review and summarize cases including all records; coordinate trial prep, including exhibits and record; draft documents, including correspondence, answers to interrogatories, pleadings, motions, certain business forms and probate court documents, for attorneys' review/approval; order and compile medical records and bills and prepare economic and non-economic loss compendium; perform case-related research as requested by supported attorneys; prepare for deposition and attendance at trials as requested by supported attorneys; run reports, track statutes and maintain and update client lists and due dates; communicate with clients; train other administrative assistants and paralegals as needs arise. Backup/support to other administrative assistants and paralegals as needs arise.
Two to five years of recent meaningful law firm experience in estate planning and litigation is a must. Insurance defense experience is ideal. Paralegal certification or degree required. Knowledge of Trialworks and Juris preferred; excellent communication, writing/proofreading skill, proficiency in Microsoft Office, diligence and commitment required. Challenging and fast-paced, the position offers a competitive salary and benefits package. Qualified candidates should send resume and salary requirements to thaskett@mrrlaw.com.
3/9/2018 Legal Secretary and/or Paralegal: Akron, Ohio law firm. Please send resume to Lawrecep123@gmail.com 
3/2/18 Paralegal/Legal Assistant: Sheffield Village law firm seeks a motivated, professional, personable, cheerful and compassionate full-time legal assistant/paralegal. Applicant must be a team player.
Consideration will only be given to those who have: 1) Prior law firm experience, preferably in probate, estate planning, real estate and family law; 2) Excellent grammatical, writing, typing and computer skills; 3) Exceptional customer service skills, both in meeting with clients in-person and over the telephone; 4) The ability to multitask and work for more than one attorney. Additional consideration will be given to those applicants with an accounting background. Applicants residing within 20 miles of Sheffield Village, Ohio, will be favored, unless applicant states they are moving closer to the job location. Salary requirements must be provided in cover letter with resume. Required experience: law firm, twp years. Required education: associate degree. Required license or certification: notary public. Click here for more information.

3/1/18 Paralegal: Phillips & Mille seeks an experienced litigation paralegal for its Middleburg Heights office. The ideal candidate must have four or more years of experience as a paralegal in litigation. The ideal candidate will have experience in personal injury, civil litigation and criminal litigation. 
The candidate should have excellent writing/drafting, communication and organizational skills. This is an excellent opportunity to join an established firm and grow within a thriving and growing practice.
Phillips & Mille Co., LPA is a full-service law firm with offices in Middleburg Heights, Peninsula and Medina. The litigation practice consists primarily of personal injury, civil litigation and criminal litigation.
If interested, please submit your resume and cover letter, including salary requirements, to:  
Phillips & Mille Co., LPA
Attn: Erica A. Skerl
7530 Lucerne Drive, Suite 200
Middleburg Heights, OH 44130
Job Type: Full-time
3/1/18 Temporary help needed: Litigation Management Inc. (LMI) is recruiting for an upcoming project that is expected to last one week. The project involves data entry, critical thinking and good decision-making skills. The project will take place March 19-24,and will employ two to three shifts of workers (preferably first and second shift, but may open third shift if necessary). Most of the work will be done on-site in LMI's offices.
Contact: Jennifer L. Minks 440-684-8771
2/21/18 Secretary: Cleveland, Ohio. The Department of the Treasury seeks a secretary. Click here for more information.
2/8/18 Arbitration Paralegal: Cleveland, Ohio. DITCHEY GEIGER LLC is a firm established in 2006 that handles subrogation and arbitration claims for insurance carriers nationwide.
Arbitration: Member insurance carriers subscribe to a dispute resolution forum known as Arbitration Forums Inc. In this forum, carriers resolve disputed auto accident claims through written contentions as an alternative to litigation. The decisions are binding and not subject to appeal on the merits.
Job Description: Arbitration paralegal will be responsible for reviewing claim files and organizing all necessary supporting documentation. They will research applicable codes, statutes and case law and will prepare and draft concise, persuasive written arguments for handling attorney to support theories of liability on behalf of client.
Qualifications: Strong writing skills, reading comprehension, analytical thinking, strong organizational skills, ability to work under pressure of strict deadlines, learn and retain an understanding of negligence and theories of
liability applicable to auto accidents in multiple jurisdictions, develop a working knowledge of applicable rules and procedures. Full-time and part-time work hours considered. $13-15 per hour. Casual work environment, free parking.   
DITCHEY GEIGER, LLC
2728 Euclid Avenue – Suite 201
Cleveland, OH 44115
www.ditcheygeiger.com
Submit cover letter and resume to:
Timothy J. Ditchey
TJD@DitcheyGeiger.com
2/8/18 Secretary: Cleveland, Ohio. Abel & Zocolo LPA seeks a full- or part-time secretary. Candidates must possess a high level of confidentiality; strong sense of discretion; excellent written, telephone and communication skills; and a courteous and professional demeanor. Responsibilities include drafting documents and legal correspondence; use of Microsoft Word; maintaining files; scanning, copying and faxing documents; overseeing and ordering office supplies and materials; communicating with attorneys, clients and court personnel; answering phones and emails; and greeting visitors. Starting salary is $12-15 per hour. Email resume/credentials/references to JWAbel@sbcglobal.net.
2/8/18 Paralegal: Mayfield Heights, Ohio. Progressive seeks a corporate paralegal to support a group of attorneys in their claims legal department. Click here for more information.
2/7/18 Paralegal: Independence, Ohio. Civil litigation law firm seeks a legal assistant/law clerk/paralegal, full- or part-time. Duties include, but are not limited to, client file setup, research, document preparation, etc. Applicants must submit a resume along with a cover letter that outlines compensation and benefit expectations. Current students are welcome to apply. Dan Morell & Associates LLC. Attn: HR 6060 Rockside Road, Suite 200 Independence, OH 44131 or email to dmorell@danmorell.com. 
2/5/18 Legal Assistant Auditors: Brooklyn Heights, Ohio. This is a great opportunity for a junior-level paralegal! Our client seeks to hire a small team of legal assistant auditors to join the forwarding group in their Brooklyn Heights office for a temp-to-hire assignment. If you have strong attention to detail, excellent time-management and analytical skills and are comfortable working in a high-volume team environment, please read on and apply to be considered. Key Responsibilities: Case management for consumer collections files; document review; record auditing; email and phone communications to local services attorneys off-site; data entry. Qualifications: One year paralegal/legal assistant certificate from college or technical school and a minimum of one year relevant experience or an equivalent combination of education, training and experience. Understanding of the legal process flow for civil lawsuits is preferred. Must type 45 words per minute (typing test on-site); must be proficient with Microsoft Word, Excel and Outlook; have strong attention to detail; be comfortable working at a fast pace and self-motivated. Contact Lesley Shiels at Major Legal Services: lesley@majorlegalservices.com or 216-579-9782.
2/5/18 Paralegal: Akron, Ohio. An Akron-area corporation seeks a temporary litigation paralegal. The assignment will be three to six months long. Candidates must have one to five years of substantive litigation experience. Click here for more information.
1/25/18 Paralegal Specialist: Cleveland, Ohio. The Department of Defense seeks a paralegal specialist. Click the link for more information. Click here for more info.
1/23/18 Paralegal/Legal Assistant: Beachwood, Ohio. MIM Software Inc. provides practical imaging solutions in the fields of radiation oncology, radiology, nuclear medicine, neuroimaging and cardiac imaging. We seek a paralegal to join our legal services department. You will work closely with our legal counsel to format, prepare, negotiate and review standard form agreements (including, but not limited to, NDAs, BAAs and software license agreements). You will help with managing the legal services department's workflow, including scheduling, processing contracts for signature, tracking to ensure receipt of fully executed documents and maintaining entries in a document management system. You will also assist in managing tasks associated with data privacy and security. We want someone who has a passion for the legal field and demonstrates a strong work ethic, excellent communication skills and a willingness to support our legal team in any way. Responsibilities include: Formatting, preparing, negotiating and reviewing contracts, such as confidentiality agreements, BAAs, service agreements, software license agreements and other documents as required; assisting the business team and account managers in managing RFI and RFPs; reviewing, analyzing and summarizing contracts to monitor critical terms/dates; assisting in privacy and security-related tasks (HIPAA and GDPR); handling contract signing process and maintaining a document management system; assisting legal counsel in tasks related to all areas of MIM Software, including marketing, intellectual property, business and human resource legal tasks, etc.; managing the legal services department workflow. Qualifications: High school diploma or equivalent required. Bachelor's or associate degree preferred; paralegal degree/certified paralegal preferred; up to five years' experience as a paralegal with a focus on contracts. Previous experience in-house or at a large law firm preferred; previous experience dealing with technology transactions and privacy issues; proficiency with Microsoft Office applications (i.e., Word, Excel, Outlook). Must be organized, self-sufficient and detail-oriented and be able to handle and prioritize multiple tasks and work concurrently on a variety of projects. Must have strong drafting skills for contracts/agreements. Click here for more information.