Paralegal Job Opportunities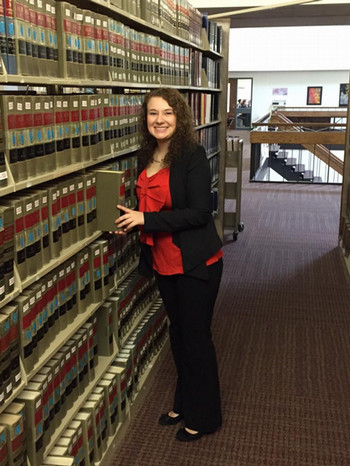 12/4/17  Intellectual Property Paralegal: Frisina seeks an Intellectual Property Paralegal on a part time basis to handle routine paralegal and administrative tasks. Work hours are flexible, but the candidate must be available to work during regular business hours. Duties of the successful candidate include preparing papers for filing in patent and trademark cases, legal research, preparing routine documents such as non-disclosure agreements and information disclosure statements, monitoring PAIR for case status changes and incoming correspondence, docketing case deadlines, running weekly docket reports, preparing routine client correspondence, assembling patent and trademark search reports, and setting and confirming client appointments. Skills. Strong legal research skills, organizational skills, and verbal and written communication skills are required. Proficiency with basic office software including MS Office and Adobe Acrobat is expected. Any technical experience in science, engineering, or manufacturing is a plus. Experience. 0-2 years About Us. Frisina, LLC is an intellectual property law practice specializing in patent and trademark preparation and prosecution. Employees work in a collegial atmosphere with ample opportunity for training and mentoring. Interested individuals should send a resume, unofficial transcript, and at least two references to :dominic@frisinaip.com. Candidates must be willing to submit to a drug test.
11/28/17 Paralegal: Downtown Cleveland law firm with fast-paced, high-profile practice focusing on civil rights, constitutional law, and white-collar-criminal defense is seeking a full-time paralegal. Great opportunity for personal and professional growth in a collegial, small-firm environment. Main job duties would include, but are not limited to, interviewing potential clients and preparing interview summaries for attorneys for evaluation; managing client files; maintaining firm calendar and scheduling, including docketing deadlines and events; assisting attorneys with preparing pleadings, correspondence, and court filings; assisting with document review, analysis, and organization; preparing exhibits and binders for depositions, mediations, and trial; fact investigation and appropriate legal research. Preferred qualifications: Proficient with Mac, Microsoft Word, Adobe, and Excel. The firm is looking for someone who has a strong work ethic, possesses strong organizational skills, has strong writing skills, pays close attention to detail, can manage multiple priorities, excels in a team setting, and has a professional, upbeat disposition and growth mindset. Prior paralegal training or experience is preferred. Notary public status a plus. Visit www.ChandraLaw.com for information about the firm. Qualified candidates should submit the following in .pdf format to Sandhya.Gupta@ChandraLaw.com and Suzanne.Zaranko@ChandraLaw.com: cover letter, résumé, list of three references, and two unprivileged writing samples. Subject of the email should read "Application for paralegal position." 
11/22/17 Legal Assistant/Paralegal: Cleveland, OH. Small, top rated litigation firm with emphasis on medical malpractice has a full or part-time position open for an individual to manage the docket, prepare exhibits and settlement packages, track statutes, communicate with clients, prepare pleadings, order records, prepare and answer discovery, organize complex medical charts, communicate with health care providers. Prior experience is a plus, however, we will train the right individual for the job. Please send resume to william@novak-law.com or tessa@novak-law.com. 
11/6/17 Paralegal: Cleveland, Ohio. OhioGuidestone is seeking a full-time paralegal. Details can be found here.  
10/23/2017 Legal Assistant/Paralegal: Busy Plaintiff's Personal Injury/Medical Malpractice law firm on the West Side of Cleveland (Ohio City) seeking a SUPERSTAR legal assistant/paralegal. This is a great opportunity for personal growth and development with a fast growing firm. Responsibilities for this job include, but are not limited to: drafting legal pleadings, drafting demand letters, drafting discovery responses, frequent telephone communication with clients, new client telephonic intakes, occasional office filing, and managing client files. Requirements: Proficient with PCs and Macs, Microsoft Office, and Adobe; up-beat, friendly & professional disposition; excellent phone etiquette. Must be self-motivated, detailed oriented, self-starter, unafraid of hard work and able to work without constant supervision. Please disqualify yourself from applying if you are not willing to be a team player, are unable to take constructive criticism, or get easily frustrated. Further, please do not apply for this position if you do not take pride and ownership in your work or if you cannot maintain a smile on your face even while communicating with clients whose life has been turned upside down, such as losing their wife or husband.  Willing to offer competitive compensation with an annual salary plus performance-based bonuses and paid leave time. Please submit your resume and cover letter, in .pdf format, for further consideration to newhire78189@gmail.com. The subject of your e-mail containing cover letter and resume must read "Superstar Legal Assistant/Paralegal Application" and the title and subject of your cover letter must be "Why I Want to Be a Legal Assistant Who Helps People." Additionally, please submit references and a writing sample. 
10/23/2017 Legal Assistant: Mazanec, Raskin & Ryder, an A.V. rated Insurance Defense Law firm with offices in Cleveland, and Columbus, Ohio and Lexington, Kentucky, is seeking a full time Legal Assistant/Paralegal for our Cleveland office. Ideal candidate will: Prepare, revise and proofread legal documents and correspondence; Maintain electronic files in case management system; Draft routine notices and entries; Docket deadlines and events; Prepare exhibits and hearing binders; Transcribing of digital dictation; Schedule appointments, travel arrangements, conferences and client meetings; Prepare expense and disbursement forms for reimbursement or payment; Maintain assignment calendars; Prepare timesheets and review client bills; Maintain client and administrative files in accordance with firm procedures, including within the document management system; Exercise independent judgment when prioritizing work assignments; Perform other miscellaneous administrative and support  duties as assigned; Draft discovery requests and organize discovery responses for attorneys' approval; Prepare drafts of certain l documents  for attorneys' review/final approval; emphasis on civil litigation pleadings and discovery; Forward records to clients and experts; Schedule depositions and meetings with expert witnesses; Review and summarize cases including all records\coordinate trial prep including exhibits and records; Drafting documents, including correspondence, answers to interrogatories, pleadings, motions, certain business forms and probate court documents, for attorneys review/approval; Ordering and compiling medical records and bills and preparing economic and non-economic loss compendium; Performing case-related research, as requested by supported attorneys; Preparing for deposition and attendance at trials, as requested by supported attorneys; Running reports, tracking statutes, and maintaining and updating client lists and due dates; Communicating with clients; Training of other Administrative Assistants and Paralegals, as needs arise; Back-up/support to other Administrative Assistants and Paralegals, as needs arise. 2-5 years of recent meaningful law firm experience in litigation is a must. Insurance defense experience is ideal.  Paralegal certification or degree required. Knowledge of Trialworks and Juris preferred. Excellent communication, writing/proofreading skills.  Proficient in Microsoft Office. Diligence and commitment required. Challenging and fast-paced, the position offers a competitive salary and benefits package.  Qualified candidates should send resume and salary requirements to thaskett@mrrlaw.com
10/23/17 Paralegal: Westlake, OH law firm is seeking a part-time Paralegal. Responsibilities to include: Collect, maintain, and organize documents and contracts; assist attorneys in research and drafting, mainly in the areas of commercial litigation, estate planning, and probate law. Minimum Requirements: 3-7 years experience in commercial litigation, estate planning, and probate law; familiar with Microsoft Office; familiar with CLIO management software preferred; great organizational skills; great proofreading abilities; strong communication skills and the ability to work in a team setting; self-motivated. 20-30 hours per week with a flexible schedule. Email resumes to deb@neelawfirm.com
10/23/17 Paralegal: Ravenna, OH. A five attorney firm focusing exclusively on criminal defense and family law, servicing Portage, Summit, Cuyahoga and the surrounding counties,  is seeking a full-time paralegal. Prior experience and/or a degree would be a plus, but they are also willing to train the right candidate. Please send emails to the Office Manager, Francoise Becquey at info@OhioCrimeLawyer.com.
10/17/17 Receptionist/Administrative Assistant: Rocky River, Ohio-A well-established law firm is seeking a receptionist/administrative assistant. This position will support the manager and team in various roles including but not limited to: answering the telephone; communicating with clients, medical professionals, and court personnel; preparing and sending template letters; opening, scanning and distributing mail; and assisting the team in administrative duties. the candidate should be responsive to all inquiries in a professional and proactive manner. Job requirements: proficient with Microsoft Office and type a minimum of 50 wpm; have a strong attention to detail; have excellent professional written, verbal communication and interpersonal skills; able to organize, prioritize work and meet deadlines; have excellent analytical, communication, and problem solving skills; 1+ years office experience; a self-starter with a sense of urgency attached to work tasks; possess excellent customer service skills both in person and over phone; strong communication skills with the ability to communicate clearly, professionally in written and verbal form; proficiency of Microsoft Word and Excel is a strong preference; professional in appearance and demeanor. Salary: $11-12/hour. Please include salary requirements if they are outside this range. Employment type: temporary to permanent, full-time. Minimum GPA: 2.50/4.00. Email resumes to: mhlegaljobs@gmail.com
10/11/17 Paralegal: Margaret W. Wong and Associates is seeking a Paralegal for their Deportation and Litigation department in their busy Cleveland office. Duties will include: preparing filings with the Immigration Court, US Court of Appeals, Board of Immigration Appeals; preparing motions, calendaring and diary due dates for filings; correspondence with different agencies and courts, and other legal tasks as assigned. This is a full-time position with a benefits package. Send resumes to joyce@imwong.com
9/19/17 Paralegal or Law Clerk: Cleveland Ohio law office is seeking a part-time paralegal or law clerk to assist established attorney in a busy suburban law office. Work environment is an excellent opportunity to gain knowledge and experience with small law office procedures. Candidate will work with attorney on diverse range of interesting cases, clients, and cyber research projects. Work includes communication with the public and clients by phone, email, and in person, particularly in criminal, family, juvenile, education, and probate matters. Position includes some document filing at court and efiling, copying and collating, case file auditing and management, answering the phone, and greeting the public. Hours are 2-3 weekdays part-time (8-12 hours per week) to start. Hours are very flexible and may be coordinated with changing class schedules. Required Qualifications: Knowledge of basic computer operation including word processing, spreadsheet, and internet searches. Clear communication skills in fielding calls and persons experiencing legal problems. Preferred: Car, laptop, estate or guardianship accounting knowledge, paralegal training or experience, notary public license. Starting rate: $13.00 per hour + vehicle expenses paid for court filing activity. Call or email for interview: cover letter with resume, 2 references, and a short personal writing sample sent to Barry Sweet at blsweet@roadrunner.com