Paralegal Job Opportunities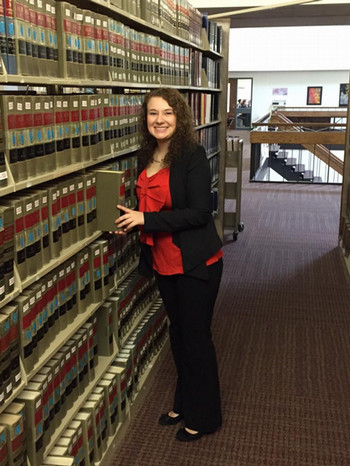 8/7/2018 Part-time Paralegal, Beachwood OH: Law firm in Beachwood, OH is looking for a part-time paralegal who can assist with drafting wills, poas, hpoa's, pleadings and discovery. May also assist with research and filing of pleadings, phones, setting up appointments and witnessing document signings. 10-12 hours per week. Send cover letter and resume to: Neil W. Siegel, Attorney at Law, Neil@neilsiegel.com
8/6/2018 Probate and Medicaid Paralegal, Cleveland, OH: Schraff & King Co., L.P.A. is accepting applications for a Probate and Medicaid paralegal position. Please send resume and cover letter to John Thomas at jthomas@schraffking.com 
7/31/2018 Paralegal Intern, Cleveland, OH: A Public Square law firm has an immediate need for a paralegal intern who is well-versed in court rules, preparing complaints, discovery, etc. Please send resumes to dmk@dmklegal.com. 
7/30/2018 Legal Assistant, Cleveland, OH: Small Law Firm seeking an experienced Legal Assistant. Practice includes business, real estate, general litigation, mediation and arbitration. Proficiency with Microsoft Word is required. Please send resume to Office Manager, kgerome@lawkkwt.com. 
7/17/2018 Probate Paralegal, Cleveland OH: Mansour Gavin, LPA, a law firm in downtown Cleveland, is currently seeking an Estate Planning/Probate Paralegal. The ideal candidate has or is in the process of obtaining a paralegal certificate or degree and has administrative office experience.
Candidate will primarily provide support to several attorneys in the firm's estate planning and probate group, including preparation of pleadings, probate forms, estate planning documents and correspondence; communication with clients; assistance with administration of estates and trusts; case and calendar management.  Must be able to learn and use firm practice management, time and billing, and probate software. Proficiency in the Microsoft suite of products including Word and Excel is required. A background in accounting or business is preferred. Experience with managing real estate files, estate tax and fiduciary income tax is a plus.
Candidate should be organized, able to exercise independent judgment, problem solve and prioritize workload. This position requires a strong work ethic and the ability to work independently and in a team environment. Solid writing and proofreading skills are required. Candidate will be expected to exercise discretion in handling sensitive and confidential client information.   
The firm offers: competitive compensation, 401(k)/profit sharing plan, paid holidays, vacation and sick time, a generous benefits package including health insurance with employer contribution to health savings plan, life insurance and disability. Interested applicants must submit a cover letter and resume to: tsage@mggmlpa.com
Founded in 1954 and based in Cleveland, Ohio, Mansour Gavin LPA is a growing firm with 25 lawyers and additional office locations in Chagrin Falls and Independence. Mansour Gavin provides a wide range of legal services to many successful privately held and publicly traded corporations. 
7/13/2018 Legal Assistant/Data Entry, temp-to-hire, Cleveland OH: Temporary-to-hire data entry/legal assistant position in a law firm environment. The ideal candidate will have experience with Word, Outlook, Excel and Quickbooks.  Strong typing skills, including 10-key, is needed. High school education required, some college is ideal. An accounting or entry-level paralegal background is also ideal.  Please email resumes to Lesley Shiels Lesley@majorlegalservices.com.
7/11/2018 Part-Time Law Office help, Cleveland, OH: Sharon & Kalnoki LLC is currently seeking an individual to answer phones and perform legal work under the direct supervision of an attorney.  They are looking for part-time, 5 days a week, flexible hours but prefer 10-4:30, at an hourly rate of $10.  They only practice immigration law and while some experience would be preferred, it is definitely not a requirement. 
If interested in applying, please send a resume to cozart@visaskk.com . 
7/3/2018 Part-Time Law Clerk/Paralegal, Cleveland, OH: Job Situation: Law office is seeking a part-time paralegal or law clerk to assist established attorney in busy suburban law office. Work environment is an excellent opportunity to gain knowledge and experience with small law office procedures. Candidate will work with attorney on diverse range of interesting cases, clients, and cyber research projects. Work includes communication with the public and clients by phone, email, and in person, particularly in criminal, family, juvenile, education, and probate matters. Position includes some document filing at court and efiling, copying and collating, case file auditing and management, answering the phone, and greeting the public.
Vacancy: Start Summer 2018 or by October 2018.
Hours: 2-3 weekdays part-time (8-12 hours per week) to start. Hours are very flexible and may be coordinated with changing class schedules.
Required Qualifications: Knowledge of basic computer operation including word processing, spreadsheet, and internet research. Clear communication skills in fielding calls and persons experiencing legal problems. Preferred: Car, laptop, estate or guardianship accounting knowledge, paralegal training or experience, notary public license. Starting rate: $13.00 per hour+ Vehicle expenses paid for court filing activity.
Call or email for interview: cover letter with resume, 2 references, and a short personal writing sample. Barry L. Sweet, Attorney at Law blsweet@roadrunner.com, attorneybarrysweet.com 216-289-5100
7/3/2018 Paralegal Specialist, Akron, OH Apply here
7/3/2018 Legal Assistant, Cleveland OH Apply here
7/3/2018 Senior Paralegal, Shaker Heights,OH, University Hospital: Apply here
7/3/2018 Administrative Assistant, Westlake OH: Patent and Trademark Administrative Assistant. Full-time position available in Westlake intellectual property law firm.  Seeking a well organized, detail-oriented individual experienced in using Microsoft WORD, OUTLOOK and EXCEL, database software (data entry and document/report generation), and time/billing software (experience with TimeSlips software a plus), to assist attorneys in the preparation of legal documents and client correspondence, conduct on-line research and interface with the US Patent and Trademark Office and foreign patent and trademark associates electronically, transcribe attorney work-product, enter time for billing, maintain hard copy and electronic case and correspondence files and computer databases of client patents and trademarks, review incoming legal correspondence for docketing of due dates, screen incoming calls, and other general office duties.  Associate or bachelor's degree preferred.  Executive assistant or patent administrative assistant experience a plus. Benefits include health insurance, 401(K) and more.  Please send resume with work experience and salary history via electronic mail to:
Hiring Partner
Salvatore A. Sidoti
Email: sidoti@patentandtm.com
Salvatore A. Sidoti, Esq.
Curatolo Sidoti Co., L.P.A.
24500 Center Ridge Road, Suite 280
Cleveland, OHIO 44145
T: 440.808.0011
F: 440.808.0657
E: sidoti@patentandtm.com
W: www.patentandtm.com 
7/2/2018 Paralegal, Cleveland,OH: Paralegal with a paralegal degree or certificate needed.  Flannery Georgalis, LLC is a fast-growing boutique law firm specializing in complex white-collar criminal defense and corporate investigations.  The successful candidate will possess a wide range of skills, including: the ability to collect, analyze and coordinate data and legal materials; the ability to manage discovery and other investigative and litigation tasks and priorities; strong organizational and communication skills; familiarity with court rules and procedures; the ability to develop strong internal and external working relationships; and excellent time management skills.  The ideal candidate will be open to a blend of duties that include administrative support to more complex paralegal organization tasks. Interested applicants should forward a cover letter and resume to Dee Krupp at delia@flannerygeorgalis.com 
6/29/2018 Legal Secretary, Cleveland OH: Small solo-practitioner seeks a legal secretary to join our support staff. Prior experience in a law firm or professional services environment preferred. Candidate must be fluent in Spanish and English; ability to prioritize tasks according to importance in a fast-paced environment; be proficient in MS Office/other software applications; have strong communication/ organizational skills; be dependable and able to handle sensitive/ confidential information with discretion.

Qualified candidates should be team oriented, quick learners, flexible, self-motivated, have excellent technical skills and approach change with a positive attitude. Candidate must have excellent customer service skills and be able to work in a team atmosphere.

Duties and responsibilities

Specific duties include but are not limited to the following:

·         Handle all phone calls and client intake

·         Handle all client scheduling 

·         Prepare legal filings: format documents, pull exhibits, proofread and redact documents

·         Prepare court forms such as summons and subpoenas

·         Comprehensive knowledge of legal office procedures, terminology, forms, documents and citation formats

·         Communicate with clients, courts and governmental agencies providing exceptional customer service in every interaction

·         Effectively use and maintain electronic document management system (Worldox), including data entry and general organization

·         Perform general administrative duties such as answering phones, maintaining files, faxing, processing mail, copying, scanning, and making travel arrangements.

·         Assist with and provide technical assistance and troubleshooting assignments.

·         Assist in entering, reviewing and editing of Attorney time each month.

·         Follow up with client billing and past-due accounts

·         Maintain attorney calendar including, deposition scheduling, internal and external client meetings

·         Duties assigned as the firm needs require.

·         Be able to work alone without supervision

Qualifications

Qualifications include:

·         Knowledge of legal terminology and court filing procedures

·         Ability to learn and use various computer programs.

·         Must have strong project management skills, ability to work independently, take initiative, multi task, and set priorities

·         Exceptional typing skills

·         Excellent grammar and strong communication skills

·         Fluent in Spanish

·         Demonstrated ability to work well under pressure

·         Must have strong service orientation and ability to work in a team environment

·         Excellent interpersonal skills with professional demeanor and appearance

·         Individual must be detail oriented, confidential, dependable, and display good judgment

·         Excellent computer skills with experience in Windows, Microsoft Suite Office 2010 including advanced knowledge in Word, Excel, PowerPoint and Outlook and Clio

Job Type: Full-time 8:30am-5pm Monday-Friday Send resumes and cover letter to Shaleika vargas, Exq. sv@vargaslawco.com 
6/25/18 Paralegal/Legal Assistant: Law firm in Cleveland OH seeking to hire a full-time personal injury paralegal/legal assistant, experience is not necessary. Our law firm focuses on personal injury, workers' compensation, and criminal law.   Primary responsibilities include:  requesting medical records, expert reports, billing statements; setting up subrogation; preparing demand packages; tracking dates and deadlines; assisting in misc. projects; and other office duties.  Salary includes personal health, dental, eye, and life insurance benefits after 90 days, plus parking.  For consideration, please submit resume via email (georgemineff@yahoo.com) or fax (216)694-3444.
6/25/18 Junior to mid-level Litigation Legal Assistant, Fairlawn OH:  A growing law firm with offices in NE & Central Ohio is seeking to add to their team. Daily responsibilities will range from managing the litigation calendars of 2-3 busy litigation partners to supporting these attorneys with the preparation of basic litigation documents for discovery.  The ideal candidate will be open to a blend of duties that include administrative support to more complex paralegal organization tasks.  

In addition, there may be the opportunity to assist the firm's E-Discovery team in meeting their customer requests to preserve, collect, process, host, search, review and produce electronic information for litigation and investigations. 

Qualifications:

At least 1-3 years' of law firm legal assistant or paralegal experience, ideally in the litigation practice group.  

Four year degree in Paralegal Studies, or a college degree and Paralegal Certification
Please email resumes to Lesley Shiels. Lesley@majorlegalservices.com
6/21/18 Document Management Specialist, Independence OH:
Atwell is a recognized leader, ranked 160 on ENR's Top 500 Design firms in 2017, and a Zweig Group 2017 Hot Firm. Atwell is a full service consulting, engineering and construction services firm that delivers a broad range of creative solutions to clients in the real estate and land development, power and energy, and oil and gas markets.
Responsibilities/Job Purpose:
The Document Management Specialist supports the Land Solutions Team through real estate document review, communication, accurate documentation, and overall coordination of client-provided documents to ensure real estate is secured in a timely manner. This position requires excellent communication skills, extreme attention to detail and the ability to transition seamlessly from project to project over the course of the day.
Typical Duties:
Deed and Title Research
Oversees the deed request process with land agents to ensure the proper parcels are encumbered by the land agent.
 Reviews deeds, leases, rights of way, easements, probates and other real estate documents to establish a clear chain of title.
 Communicates directly with title companies to ensure accurate title searches are performed
Follows document storage procedures to ensure complete and accurate files are maintained for each landowner
Lease Documentation 
Ensures client provided template documents are used at all times and any revisions to such document are completed and approved by client.
Ensure client provided documents meet recording standards in each county.
Communicates with land agents to ensure proper documentation is obtained.
 Review GIS exhibits to ensure targeted parcels are leased.
Completes backend processing of agreements ensuring they are properly signed and notarized by landowners before sending to client.
 Follows up with landowners to obtain missing or new execution documents on an as needed basis.
 Reviews client counter-execution of document before sending documents to be recorded.
Land Acquisition Support
Researches land owner contact information on an as-needed basis.
Assists in preparation of land owner packets for use in field by land agents on an as-needed basis.
Skills & Knowledge / Education and Experience:
Bachelor's Degree strongly preferred.
Specialized training in abstracting, title research or real estate strongly preferred
5 years of right of way experience preferred
5 years of title examination/abstracting experience required
Proficiency in Microsoft office suite, especially word and excel.
Background in land acquisition documents strongly preferred
6/18/2018 Paralegal: Cleveland OH.
FLSA: Non-Exempt

Reports To: Assigned Attorney(s)/Nurse Consultant

JOB SUMMARY:

To provide legal support to assigned attorneys and/or projects by obtaining, organizing and summarizing files and documents, drafting discovery documents, monitoring and reviewing incoming discovery, conducting research and assisting with trial preparation.

ESSENTIAL FUNCTIONS:

1.    Reviews CLAD (Complex Litigation Automated Docket) daily with attention to pertinent information.  Downloads, prints, and reviews discovery.  Report information to attorney and/or client.

2.    Reviews incoming discovery.

3.    Maintains Crown Cork & Seal's asbestos database. 

4.    Runs reports for Crown Cork & Seal using Xtrieve.

5.    Attends phone depositions when coverage is required.

6.    Obtains background information on physicians including DRI/IDEX searches.

7.    Prepares pleadings.

8.    Schedules depositions, sends out confirmation letters, and arranges for court reporter.

9.    Organizes and maintains files.

10. Gathers, reviews, indexes, and summarizes documents or transcripts.

11. Obtains and/or follows-up on outstanding requests for medical/personal/disability/ payroll/workers compensation records, etc., at attorney's request.

12. Bates stamps medical records.

13. Performs legal, non-legal, and medical research.

14. Researches legal and medical articles for review.

15. Prepares electronic filings for District Court.

16. Organizes and marks trial exhibits.

17. Prepares or supervises preparation of graphs and exhibits for use at trial.

18. Prepares trial notebooks.

19. Corresponds with clients, counsel, doctors, etc.

ADDITIONAL RESPONSIBILITIES:

1.    Contributes to a team effort by working as part of a team.
To apply, please send resume and a copy of your certificate to abambrick@bsphlaw.com 
6/12/18 Litigation Specialist: Mayfield Heights OH. Litigation Management, Inc. (LMI) is seeking skilled individuals to coordinate high quality and expeditious record collection efforts of high priority cases, prepare client reports, fulfill client requests, and provide support with the legal aspects of case coordination.
If you have a strong desire to satisfy client requests, while balancing business operations in a team environment, apply now!  Ideal candidates have strong customer service skills, are very detail oriented and organized, work to create process improvements, and provide effective feedback to team members to improve outcomes.
This is a regular, full-time position, working at our Mayfield Heights office. Work 40 hours per week, 8:00 a.m. – 4:30 p.m., or 8:30 a.m. – 5:00 p.m.
Qualifications:
§  Paralegal or JD graduates are preferred backgrounds.  Minimum of high school diploma (or equivalent) with 4 years' experience in legal office required or 2-4 year degree in related field.  Paralegal, Legal Assistant, or Legal Secretaries make great Litigation Specialists.
§  Proficiency in Microsoft Word, Outlook, and Internet research and intermediate to advanced proficiency in MS Excel.
§  Must demonstrate excellent customer service to internal clients, providers of record, and external clients. Excellent communication, both verbal and written required.
§  Must perform independently, be self-motivated, and collaborate with team members to accomplish goals
§  Experience suggesting process improvements and providing feedback to team members for improved outcomes also required.
§  Must have strong desire to learn and be flexible in perpetually changing environment.
About Litigation Management, Inc:
When it comes to complex litigation, deep insight can be the strategic advantage. For over 30 years, Litigation Management, Inc. (LMI), the industry leader in providing a wide array of superior litigation management services, has provided in-house and outside counsel with the knowledge and insight needed to efficiently achieve better litigation outcomes. LMI has long recognized that our people make the difference - our staff is comprised of medical, legal, and IT industry specialists. LMI is dedicated to giving its employees professional development
Please e-mail your resume to kim.stopak@advancetalent.com or directly contact Kim Stopak at 440-684-8779.  
6/11/18 Paralegal/Administrative Assistant: Independence OH. 
Seeking organized, independent, and professional administrative assistant for a part-time position in an immigration law office.The ideal candidate will be:
Computer proficient (Microsoft Office)
Able to perform basic office functions:
*answering phones
*greeting clients
*scheduling and confirming appointments
*performing intake for new clients
*tracking mail
*filling out immigration forms
*managing Firm calendar
Previous law office or administrative experience preferred, but not required.  Please send resumes to cozart@visaskk.com.
6/11/18 Paralegal/Legal Assistant: Wooster OH. Critchfield, Critchfield & Johnston, Ltd. is seeking an experienced Paralegal/Legal Assistant to work in its Wooster location.  Litigation experience required. The ideal candidate will have knowledge of law office practice, at least two years of legal experience, and possess excellent grammar, writing, and computer skills.  Netdocuments or document management system experience preferred but not required.  High school diploma or GED required. Paralegal certification preferred but not required. Knowledge of office practices and procedures, computer operation including software, correct use of grammar, punctuation, and spelling.
6/11/18 Administrative Assistant: Medina OH. Critchfield, Critchfield, & Johnston, Ltd., with locations in Ashland, Medina, Millersburg, Mount Vernon and Wooster, Ohio, is seeking a full-time administrative assistant to work in its Medina location.  This position supports the estate planning and probate area with day to day administrative tasks.  The ideal candidate will have knowledge of law office practice and possess excellent grammar, writing, and computer skills. Netdocuments or document management system experience preferred but not required. High school diploma or GED required. Paralegal certification preferred but not required. Knowledge of office practices and procedures, computer operation including software, correct use of grammar, punctuation, and spelling.
6/1/18 Legal Assistant/Secretary: Cleveland OH. Downtown Cleveland workers compensation/personal injury firm seeks legal assistant/secretary with strong communication, administrative, and computer skills. Responsibilities (include but not limited to): Handling of all personal injury files, both during and prior to the litigation process; Liaison between court administrations, insurance companies, attorneys, and clients; Requesting and obtaining medical records, medical billing, and subrogation liens relative to client's personal injury claim; Input and calendar notices and scheduling; andDraft client correspondence. Skills: Proficient in use of Microsoft Office products and QuickBooks; Exceptional multitasking and organizational skills; and Basic understanding of legal terminology, general law, and legal proceedings. Please send resume to sarah@brelolaw.com
5/29/18 Paralegal: Cleveland, Ohio: The Department of Justice is looking for a Paralegal Specialist. Click this link for more information
5/22/18 Paralegal: Akron, Cleveland, Toledo, and Youngstown: Kisling, Nestico & Redick is one of the largest plaintiff firms in Ohio with offices statewide.  We are seeking a Litigation Paralegal for our Akron office.  The individual will work closely with attorneys to manage personal injury cases for our clients.  Our ideal candidate is an ambitious self-starter who takes initiative to achieve team goals. Click here for more information
5/21/18 Paralegal: Cleveland OH. DITCHEY GEIGER, LLC is a firm established in 2006 that handles handles subrogation & arbitration claims for insurance carriers nationwide. Arbitration: Member Insurance carriers subscribe to a dispute resolution forum known as Arbitration Forums, Inc. In this forum, carriers resolve disputed auto accident claims through written contentions as an alternative to litigation. The decisions are binding and not subject to appeal on the merits. Job Description: Arbitration Paralegal will be responsible to review claim files and organize all necessary supporting documentation. Research applicable codes, statutes, and case law. Prepare and draft concise, persuasive written arguments for handling Attorney to support theories of liability on behalf of client.
Qualifications: Strong writing skills, reading comprehension, analytical thinking, strong organizational skills, work under pressure of strict deadlines, learn and retain an understanding of negligence and theories of liability applicable to auto accidents in multiple jurisdictions, develop a working knowledge of applicable rules and procedures.Full and PT work hours considered. $13.00-15.00 per hour. Casual work environment, Free Parking
DITCHEY GEIGER, LLC
2728 Euclid Avenue – Suite 201
Cleveland, Ohio 44115
www.ditcheygeiger.com
Submit Cover Letter and Resume to:
Timothy J. Ditchey
TJD@DitcheyGeiger.com
5/11/18 Paralegal: Cleveland, Ohio. Benesch seeks a commercial finance and banking paralegal. The paralegal provides support to the Commercial Finance and Banking legal staff for all types of practice group matters and ensures that all filings and other duties are completed in a timely and accurate manner. 
Essential functions include: drafting legal documents, proofreading for accuracy; preparing correspondence; filing documents with various agencies; summarizing legal documents; communicating properly and promptly with internal personnel and external contacts, exhibiting a high level of client service at all times; preparing Uniform Commercial Code (UCC) financing statements and amendments; initiating lien searches and preparing summaries thereto; preparing closing agendas and files for loan transactions; preparing for and attending loan transaction closings; preparing closing binders containing copies of all loan documents; and performing other duties as assigned.
Confidentiality: Due to the nature of employment, the paralegal will come into possession of various documents and information of a confidential and privileged nature. Such documents and information must be kept confidential at all times.
Qualifications: Strong organizational skills and the ability to prioritize and multitask; excellent interpersonal and communication skills and a client service attitude; proficiency in various software applications; and flexibility to work overtime as needed. Related experience preferred. Apply here
5/10/18 Paralegal, Westlake OH. Dodosh Law Offices LLC seeks a part-time (25-30 hours/week) personal injury paralegal to join our fast-growing and high-volume practice on a work-from-home basis. Responsibilities include answering the phone, opening claims with car insurance companies, assisting clients with coordinating car damage repairs, ordering and organizing medical records and bills, dealing with all phases of Medicaid and Medicare subrogation, preparing demand packages, assisting with discovery and filing court pleadings.
Our firm is paperless and utilizes cloud computing, videoconferencing and phone systems that allow this work to be performed remotely while still keeping in close contact with the attorney throughout the day. Being comfortable with this type of technology is a must. The ideal candidate will have at least two years of experience completing the above tasks and be highly organized and detail-oriented.
Pay is competitive, commensurate with experience, and includes incentives. Contact Jackie Crawford at jackie@clevelandsinjurylawyer.com. 
5/4/18 Paralegal, Litigation Support, Temporary, Cleveland, OH. Leading legal technology and e-discovery company seeks a paralegal, litigation support professional or JD to help manage attorney document review projects. A college degree (associate or higher) is required. Employee will perform varied tasks, including space management, project support, staffing coordination, scheduling, time records and other administrative duties. Selected candidate will start on an hourly basis and work for the next month (May 11-June 11). Send a resume to jeanie.kim@discoverready.com. Rate is $16 per hour and $24 for OT, which may be required on occasion. Position must be filled immediately. Interviews will begin the week of May 7.