Cuyahoga Community College Foundation
Cleveland Eats: Small Bites, Big Dreams
Join the Tri-C Foundation to kick off the inaugural Cleveland Eats Culinary Festival on Thursday, September 14, 2017 at the Cleveland Eats: Small Bites, Big Dreams celebration! The evening will include delectable food and drink offerings prepared by top chefs paired with Tri-C hospitality students at the Hospitality Management Center on Public Square, and proceeds benefit student scholarships.
Trina Evans of KeyCorp appointed as Foundation chairperson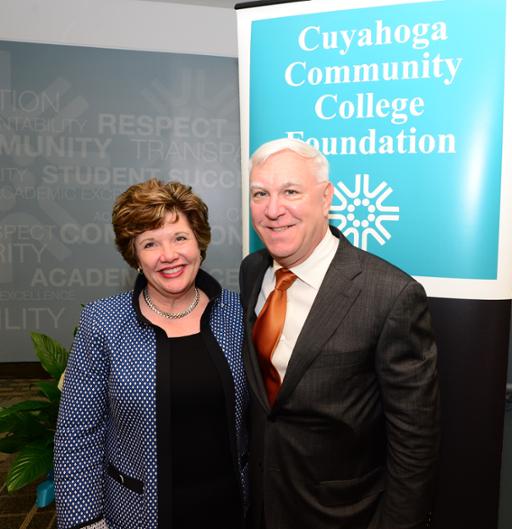 The Cuyahoga Community College (Tri-C®) Foundation announced its 2017-2018 leadership team during its annual meeting. Trina Evans, executive vice president and director of Corporate Center for KeyCorp, was appointed chairperson. She has been a Foundation director since 2014.
"The Cuyahoga Community College Foundation helps bring dreams to life for thousands of community members every year by securing funding for scholarships and programs," Evans said. "This support helps Tri-C students complete their studies and find a better future. I look forward to working with the Foundation leadership team to add to the long list of success stories."
Evans succeeds Rick Chiricosta, who led the Foundation the past three years. Chiricosta will continue to serve on the Foundation's Executive Committee.
Tri-C Foundation honors Louis G. Joseph for distinguished service
The Tri-C Foundation Board of Directors awarded the 2017 Heath Oliver Distinguished Director Award to Louis J. Joseph, President and CEO of The Brewer-Garret Company, in recognition of his sixteen years of exemplary service. In that time, he has served as board treasurer and been an active member of the Finance and Executive Committees. The Westlake resident and his wife also established a scholarship fund with the Foundation in 2012 to help degree-seeking students meet their academic goals at Tri-C. The Valerie & Lou Joseph Endowed Scholarship Fund supports students in the College's Honors Program Fellowship. 
"If you know Lou at all, you know that everything he does is done with passion and a purpose," said Rick Chiricosta, chairperson of the Foundation Board. "He has been way more than just a board member for 16 years, and no one is more deserving of this recognition than him."
The Heath Oliver Distinguished Director Award was established in memory of longtime Foundation Board Director Heath Oliver, president of Bardons & Oliver and a valuable member of the Board from 1988 until his death in 2009. Under his leadership, scholarships for Tri-C students became a fundraising priority; the Foundation successfully launched its first major gifts campaign; and Presidential Scholarship Luncheons raised significant dollars to benefit students.
Tri-C Foundation Videos