Cuyahoga Community College Foundation
2017 Presidential Scholarship Luncheon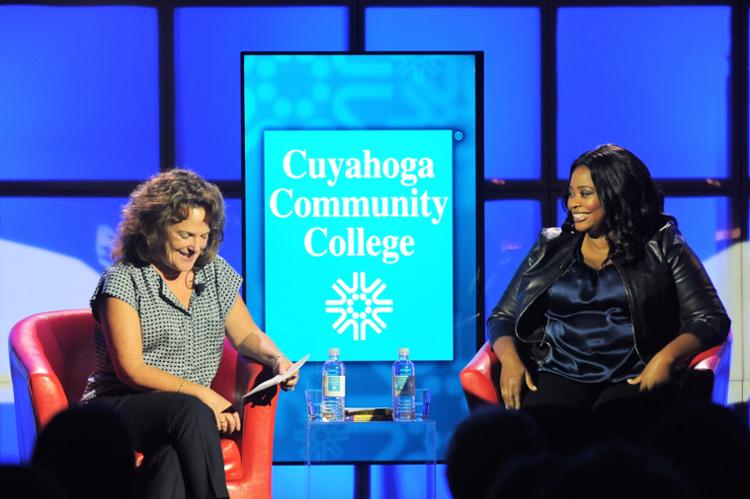 Academy Award-winning actress Octavia Spencer put the stars within reach for Cuyahoga Community College (Tri-C®) students by helping the Cuyahoga Community College Foundation raise $1.2 million for student scholarships. The critically needed funds — the result of the Foundation's 2017 Presidential Scholarship Luncheon on October 4, 2017 — will help Tri-C students pursue higher education and achieve their academic goals. The dollars generated at the luncheon create scholarships that turn students into graduates and dreams into success stories.

KeyBank served as presenting sponsor of the luncheon, which attracted a crowd of more than 1,000. The spotlight focused on Barnes & Noble during the luncheon after the company announced a $1.25 million gift to the Foundation for student scholarships. The donation expanded a scholarship fund established nearly a decade ago.
 
Spencer portrayed NASA legend Dorothy Vaughan in Hidden Figures, a film that showed how a group of African-American women shattered gender, race and professional barriers with their brilliance and desire to dream big. The film proved particularly meaningful at Tri-C, where the College's Minority University Research Education Project Aerospace Academy seeks to open career doors in STEM fields — science, technology, engineering and math — for underserved groups, including women.

Scholarships made possible through the luncheon could launch the career of the next Dorothy Vaughan from Tri-C classrooms, said Megan O'Bryan, president of the Cuyahoga Community College Foundation. "Northeast Ohio possesses incredible talent," O'Bryan said. "Providing scholarships and access to a quality education at Tri-C allows that talent to grow and be nurtured. There is no limit to what our students can accomplish if given the chance to succeed."

Since its inception in 1992, the Foundation's Presidential Scholarship Luncheon has raised more than $18 million to benefit Tri-C students. The Foundation awarded $2.9 million in scholarships to nearly 2,200 students last year.
Tri-C's Westshore Campus recognizes Medical Mutual contribution
Cuyahoga Community College recently recently renamed a Westshore Campus building to recognize Medical Mutual of Ohio for its longstanding support of Tri-C, its students and programs. The College dedicated the Medical Mutual Health Careers & Sciences Building, which will serve as the academic hub of Westshore Campus, in a ceremony held on August 3, 2017.   "The new name reflects the enduring impact Medical Mutual has made on educational and workforce training programs at the College, particularly in the field of health care," Tri-C President Alex Johnson said. The health insurer's partnership with the College dates back more than two decades and includes the establishment of the Medical Mutual Nursing and Health Careers Endowed Scholarship Fund in 2012.
Tri-C Foundation Videos