Gill and Tommy LiPuma Center for Creative Arts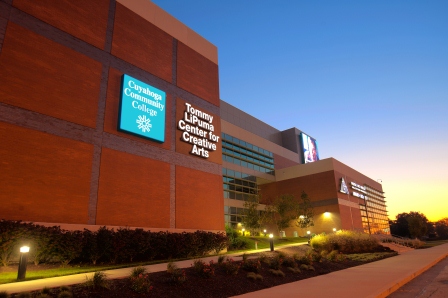 The Gill and Tommy LiPuma Center for Creative Arts at the Tri-C Metropolitan Campus provides a unique learning environment for students pursuing studies in a wide spectrum of creative arts disciplines. A joint project between the college and The Rock and Roll Hall of Fame and Museum, the center features 75,000 square feet that bring together many of the college's media arts, recording arts, performing arts, animation laboratories, and other programs. The center also houses dance and theater studios, audio and keyboard classrooms, music technology labs and editing suites. It also houses The Rock and Roll Hall of Fame and Museum's library and archives.
The Center is named in honor of Cleveland native Tommy LiPuma, one of the most successful pop and jazz producers of all time with 33 gold and platinum records to his credit, 33 Grammy nominations, and three Grammy awards. He has produced for legendary artists like Miles Davis, Sir Paul McCartney, Natalie Cole, Barbra Streisand, George Benson, Al Jarreau, Diana Krall and David Sanborn to name a few.
Mr. LiPuma made a $3 million endowment to Tri-C, the largest private gift contribution in the school's history, to support the school's progressive movement for having the latest technological advances in creative arts, including music, film, and animation.
Tours
Inspired by the very popular tours of the Metro Creative Arts Building led by David Kennedy, Program Manager of RAT; Jeffrey Donnelly, Technical Director of the Metro Theatre Department will be taking students, faculty, staff and members of the public on tours through the Metro Main Stage Theatre, Auditorium, Studio Theatre and Scene Shop on the 3rd Wednesday of each month at 2p.  The tours will take approximately 45 minutes and include public areas, control booths and back stage.  The tour on October 21 should be particularly interesting because the set for the Fall 2015 production of 'Tartuffe' will be featured.  Tours meet in the lobby of the Metro Auditorium and begin promptly at 2:05p.  For more information, please contact Jeffrey Donnelly at 987.4269.