Tri-C Annual Advisory Committees Appreciation Breakfast & Community Champions Awards
Annual Advisory Committees Appreciation Breakfast
Since 1993, Tri-C hosts an annual event to honor and celebrate the contributions of Tri-C's Program Advisory Committees. Typically, community and staff members with professional expertise are invited to sit on the Committees, providing input to development of Tri-C Programs and ensuring students are well-positioned for success in their chosen fields. The Committees are nominated for an annual award by Tri-C Faculty and Staff who are working directly with them.
Advisory Committee past award winners
1993 Nursing Education
1994 Paralegal Studies Program
1995 Respiratory Care Technology
1996 Respiratory Care Technology
1997 Early Childhood Education
1998 Veterinary Technology
1999 Mortgage Finance
2000 Small Business
2001 Early Childhood Education
2002 Hospitality Management
2003 Construction Apprenticeship Training
2004 Plant Science & Landscape Technology
2005 Industrial Distribution
2006 Polysomnography
2007 Environmental Health & Safety Technology
2008 Physician Assistant Program
2009 Electroneurodiagnostic Technology
2010 Medical Laboratory Technology
2011 Captioning and Court Reporting
2012 Radiography
2013 Respiratory Care
2014 Registered Nursing
2015 Nuclear Medicine
2016 Sport and Exercise Studies
Tri-C Community Champion Awards
Each year, Tri-C honors Community Champions making a difference in the lives and career paths of Tri-C Students. Nominated by Tri-C Faculty/Staff, awards are given in three categories – Individual, Small Business (<50 employees), and Large Business (>50 employees.) Candidates are nominated via essays that detail the over-and-above efforts of the nominees and are handed out by Tri-C President Alex Johnson.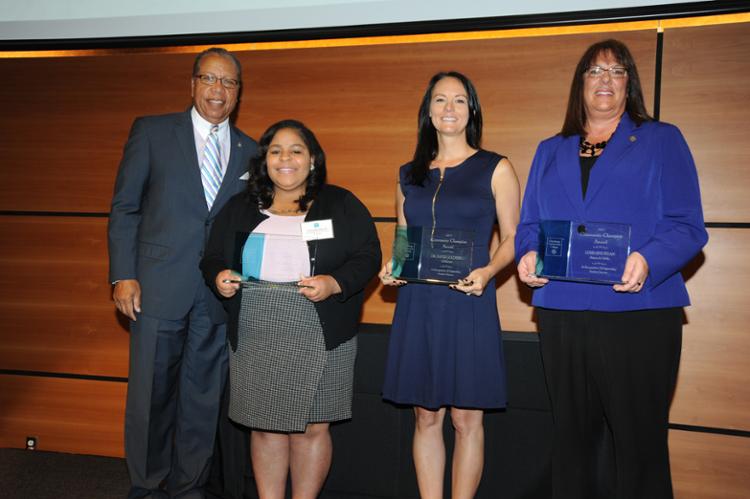 Individual Community Champion – Natasha Davis, based on her advocacy work around Tri-C's Foster Care initiative and her impact on the community and Tri-C students
Small Business (<50 employees) Community Champion – Core Skills Mastery/CSMLearn, for their support and adaptive learning technology that is used for the Tri-C Adult Diploma Program.  
Large Corporation (>50 employees) Community Champion – Barnes & Noble College Bookseller, for their ongoing commitment to student success through the text book affordability program, text book rental program, and creation of the Barnes & Noble Endowed Scholarship Fund.